RHONY's Tinsley Mortimer Moved To Chicago To Live With Fiance
The news was dropped on the last episode of RHONY before its mid season hiatus.
Ashley Hoover Baker June 12, 2020 8:41am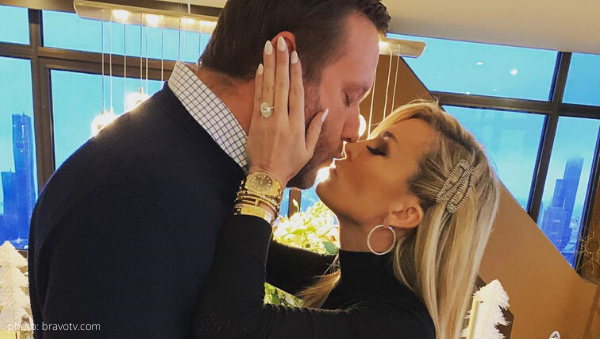 Goodbye NYC- Hello Chicago!
Tinsley Mortimer said goodbye to the Real Housewives of New York and moved to Chicago to live with her fiance/Coupon King, Scott Kluth. The news was dropped on the last episode of RHONY before its mid season hiatus.
Tinsley took to Instagram to share her gratitude. "Thank you from the bottom of my heart to all my fans and friends who supported me and are happy for my fairy tale ending. Without #RHONY, I would never have met my prince charming, Scott. Being a Housewife 🍎 was such a fun experience, and I thank @bravoandy and all the wonderful people at Shed Media and @bravotv."
Did anyone else shed tears? Some were tears of joy for Tinsley's fairy tale ending, other tears were selfish as I had to say goodbye to a favorite (and grossly underrated) housewife. Yes, I also cried because RHONY is on hiatus, as I need this escape more now than ever.
View this post on Instagram
Tinsley channeled her inner Ariana Grande with a 'Thank You, Next' styled soliloquy.
"'I don't think any of it would have happened without all the little bumps along the way,' she admitted on Thursday's episode. 'Thank you mugshot, thank you Sonja, thank you townhouse, thank you everybody else I met along the way. It's been a great ride and I'm just so happy with where I am right now and so excited for my future.'"
Dorinda's messy statement:
"I don't want to talk about it," snubbed Dorinda on the latest episode of RHONY. "I really want to make it disappear. Just don't bring life to it."
As if Slurinda Dorinda wasn't already cold enough to the now-engaged socialite on the mid-season finale, she couldn't resist posting this message to Twitter the next day.
Wait "I'm not seeing Scott" now married #hmmm

— Dorinda Medley (@DorindaMedley) June 12, 2020
Sonja gave herself a pat on the back:
The Sonja by Sonja Morgan collection creator took to social media to boast, "And without me you wouldn't have met. So happy for you girl. 💞 You got the fairy tale. Moved to NYC to live with a true girlfriend who was there for you with open arms 🙋‍♀️I got you on #rhony and my co star Introduced you to Scott the man 💓💓💓 May all your dreams come true. I'm always here 😘."
Keep in mind, Tinsley and Scott were set up by RHONY alumni, Carole Radziwill on a blind double date.
Leah's take on the other housewives' reactions to Tinsley's announcement.
"Just give Tinsley this one little moment," she says. "This one moment she's been waiting for, fighting for. But no, they can't."
Fans react:
Chelsea from Instagram's @ohnobravo account shared a shout out celebrating Tinsley's big news.
A Facebook user posted, "Dorinda tried really hard to make a statement of some sort with her blatant rudeness and preteen mean-girl gang like behavior. Very smug and proud of herself. I don't get it. Is it all jealousy?"
Another user asked, "So is Tinsley gone for good? No more of her in upcoming episodes? Maybe that's why they got Elise [sic] ??
" Is that why the 'friend of' is always lurking and inserting herself?
Let's all take a moment to acknowledge the elephant in the room:
The irony that Tinsley left the Real Housewives of New York to become an actual REAL HOUSEWIFE wasn't lost on me. #rhony

— OnThisDayENT (@OnThisDayENT) June 12, 2020
Want to watch the mid-season trailer over and over?
I feel you and I have your back.
Need more RHONY in your life during this hiatus?
Check out the Pink Shade with Erin Martin podcast for weekly recaps! Here is the latest episode.
Will you miss Tinsley on RHONY? Drop your opinion in the comments!
---