RHONY's Leah McSweeney, Elyse Slaine, Ramona Singer And Luann De Lesseps Protest Shut Downs
Ashley Hoover Baker December 16, 2020 3:14pm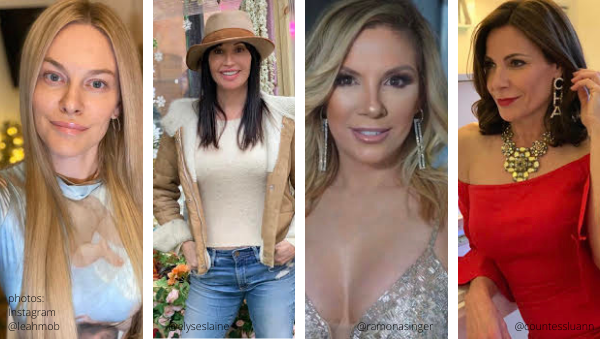 Bitch, they elevate this shit…
Leah McSweeney, Elyse Slaine, Ramona Singer and Luann de Lesseps had their fair share of conflict last season Real Housewives of New York, but the Big Apple ladies put their personal issues aside for an issue important to them all.
Each of the season 12 RHONY stars took to their social media pages to share their disdain over Governor Andrew Cuomo's plan to shut down indoor dining, resulting in a financial crisis for many.
Leah:
The soon-to-be sophomore year housewife used her newfound platform to provide her political commentary. In case you missed it, cheatsheet.com reminded readers with only one word regarding her motivation for destroying 'the Ramona Coaster's' tiki torches: "Charlottesville."
This time, Leah is protesting the loss of livelihood of the people who are the lifeline of NYC.
She took to Instagram to write, "This isn't about dining out. Open your eyes. This is about hard working people, small business owners and NYC. There is no NYC without restaurants, our sous chefs, bus boys and bartenders, wait staff etc. They need help. 1.4% transmission rate in indoor dining does not warrant plummeting all these people into poverty. Please pay attention!!!"
View this post on Instagram
Elyse:
Formerly one of Ramona's fifty close girlfriends, Elyse has used her online platform to provide high quality dating advice to her followers. She took a break from dishing relationship dos and don'ts to providing pointers to politicians, who she believes should "forfeit their paychecks to the businesses they are destroying!"
The brunette beauty stood up for the businesses who spent a great deal of money to become 'covid compliant' only to get shut down again.
View this post on Instagram
Ramona:
It's no secret Ramona has proven to be anything but the poster child for how to behave during a pandemic.
In fact, the RHONY OG who yelled" I DON'T (clap) WEAR MASKS (clap) IN THE OCEAN (clap)" at the most recent reunion after contracting covid 19 back in February  is standing up for small business owners.
"As a New Yorker I am appalled to see what is happening to the restaurant / hospitality industry! How do @nygovcuomo & @nycmayor expect these businesses to survive!!? The CDC states indoor restaurant dining only represents 1.43% of covid cases 73% come from household gatherings….and what about subways, buses and planes? It is my opinion @nygovcuomo wants to bring New York City to its knees economically he wants to destroy it, the reason is because he needs a federal bail out. Prior to Covid New York State was already in serious debt. It is time we stand up and save our small businesses!!"
View this post on Instagram
Luann:
"Ladies and gentlemen, This is The Countess speaking…"
…and she is here to remind you that "Restaurants are the lifeblood of New York City."  
The cabaret crooner took to the 'gram to share a photo of a child on their father's shoulders holding a sign that said 'Save My Daddy's Business.'
View this post on Instagram
Want to stay up to date on all things Real Housewives?
Elyse was recently on the On This Day Entertainment podcast and discussed her life post RHONY, including New York life during covid. Listen here!
Do you think there are any other social issues all four of these women would come together on? Drop your thoughts off in the comments!
---