RHONY: Luann De Lesseps' Former Assistant Describes Her As A Nightmare
Danny Marin claims she exhibited "unacceptable behavior."
Ashley Hoover Baker April 1, 2020 12:57pm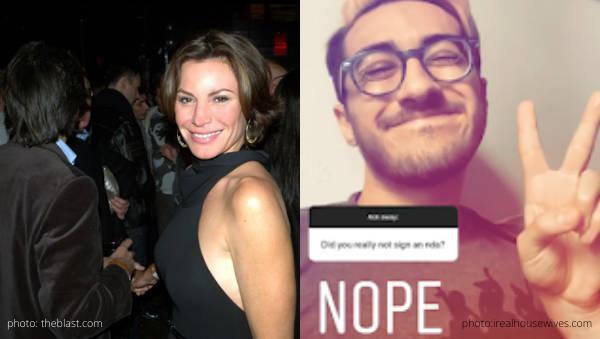 Life is not a cabaret with the 'Countess,' according to Luann de Lesseps' former assistant, Danny Marin who slammed Real Housewives of New York star. Lu was described her as a 'nightmare.'
Danny took to Instagram stories for a Q&A with his followers and spilled ALL THE TEA on what kind of person Luann truly is.
Do you wish you had never met Lu?
"She's human and has good and bad qualities. The good things were great, the bad things were a nightmare."
Were the other housewives aware that Luann was drinking?
According to Danny, the cabaret crooner's co-stars likely knew that she allegedly wasn't sober during the past season of the show. "Didn't Ramona Singer call her out on it at the reunion?" he asked using an emoji of a woman sipping on hot tea with major side eye.
Danny went on to suggest Luann was using her so-called-sobriety for a story line on the show and threw shade at her for doing so.
For more of Danny's IG Live Q&A….
#RHONY Luann de Lesseps' Former Assistant Slams Her On Instagram, Accuhttps://tasteofreality.com/rhony-luann-drinking-arrest-probation/ses Her Of Making A "Mockery Of Sobriety" And Calls Her A "Fraud"
https://t.co/o49BLTJTxh pic.twitter.com/LkjcFlZ7JV

— Brightly (@BrightlyAgain) April 1, 2020
In case you missed it:
Lu admitted to drinking again now that her court mandated probation has concluded. Here's the full scoop!
RHONY returns for it's 12th season on Thursday, April 2 at 9 p.m. on Bravo. In case you missed the sneak peak of this year's taglines, here ya go! Missed the preview, I got you…
Want more RHONY?
Make sure to subscribe to the On This Day Entertainment podcast for the latest Bravo and reality tv news for the week. Here is the most recent episode! Follow @onthisdayentertainment on Instagram to watch a LIVE break down with  @ohnobravo for the season 12 premiere on Friday, April 3rd, at 5pm PST.
Are you surprised to hear that Lu is a 'nightmare' irl? Drop your opinion off in the comments!
---