Former RHONY Star Jules Wainstein Was Arrested
Jules allegedly punched her estranged husband, Michael Wainstein, in the face.
Ashley Hoover Baker February 24, 2020 12:45pm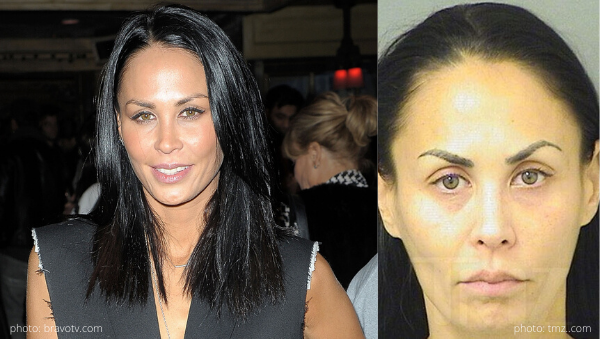 Florida and Real Housewives of New York stars simply don't mix….
Former RHONY star, Jules Wainstein, was arrested for allegedly punching her estranged husband, Michael Wainstein, in the face. Page Six reported, "Boca Raton, Florida, police arrested Jules, 39, for battery and booked her in Palm Beach County's main detention center around 3:50 p.m. Sunday."
What exactly went down?
Allegedly, things got heated between Jules and Michael during a custody exchange in a parking lot. Jules "allegedly licking Michael's car window before heading around to the back of the vehicle and damaging it with a baseball bat." (I have a feeling 'licking' was supposed to say 'kicking,' but that's how the report spelled it.)
Then, the one-season-housewife allegedly punched Michael in the face, according to a Page Six source. The best part? The former couple's two children were in the car at the time. Way to keep it classy, Jules.
What does this mean for Jules?
Jules appeared in court on Monday, as did Michael. Her arraignment is scheduled for March 16, 2020. It looks like we are going to have to wait and see what her future holds.
Was this an isolated incident?
Unfortunately, this was not the first time Jules has been in trouble for abuse. According to US Weekly, "In the winter of 2012, Julianne brutally and viciously assaulted her diminutive but brave husband," Michael's attorney, Mark Jay Heller claimed to US in June 2016. (A rep for Jules told US denied the accusations at the time.)
What is Michael's next move?
Morghan Richardson, Michael's attorney, told Page Six that his client is "exploring all of his legal options at this time." He explained,  "This is a serious situation reflecting Ms. Wainstein's increasingly reckless behavior that unfortunately took place in front of the kids. The children were released to Michael's custody yesterday and he is most concerned about protecting them."
It was confirmed by Page Six that Michael obtained a protective order against Jules. The exes have been involved in a bitter divorce battle for quite some time. In 2017, Michael faced jail time of his own after failing to pay $135,000 in child support to Jules. He claimed she had spent five-figures in support payment in only two days rather than saving the money for their children.
Why was Jules in Florida in the first place?
Jules told Bravo, "Until my divorce is over, I'm temporarily living in Boca at my parents', which actually happened to be a nice thing because unfortunately my father just recently passed away. So we got to spend the last year with him, which we wouldn't have spent as much time if we were living in New York. So we'll be there until things settle, and then hopefully we'll move back soon."
How do you think this will play out for Jules in court? Drop your predictions off in the comments!
---