Real Housewives Of Miami Cast Respond To Lenny Hochstein's Hot Mic Moment
"Don't make anyone feel or look crazy."
Ashley Hoover Baker December 8, 2022 7:37am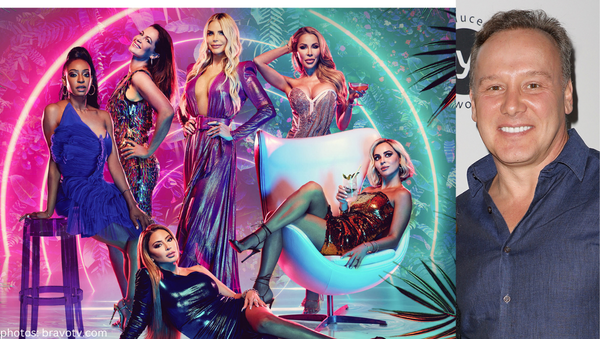 The ladies from Peacock's Real Housewives of Miami didn't hold back when asked to comment on Lisa Hochstein 's estranged husband, Lenny Hochstein's hot mic moment.
ICYMI, Lenny was caught complaining about Lisa claiming it had been "the same stuff it's always been" meaning Lenny does "anything I want whenever I want, and you [Lisa] stay home and go to work and come back."
The self-proclaimed 'boob god' even boasted, "In a couple of months, I might be single, too."
Keep in mind, Lenny was spotted with Australian model, Katharina Mazepa, but alledges they didn't start dating until his decision to divorce his children's mother was made.
Here are the hot takes from Lenny's hot mic moment from the queens of RHOM courtesy of Page Six…
"How low is low? It's cowardly."
"If you want out, let it be known."
"Don't tag anybody along, don't make anyone feel or look crazy out there. The fact that she is clapping [and saying], 'We're great,' it's just … so, so sad."
"She can take the bad news, you know what I mean? There was no reason why we're running this into the ground and crashing and burning it. She didn't deserve the way that it all went down."
"She could have easily accepted the truth, should it have been spoken to her face-to-face. I hate the hypocrisy of it all. It's very disrespectful and cowardly."
"That's just quite horrible because you have haven't put your marriage to rest yet, and here you are already stomping on your marriage saying, 'Oh, I'm not going to be [intimate].'"
"It's pretty painful and hurtful when your guy doesn't want to be with you because he's with somebody else."
"Nobody's perfect. We all stick our foot in our mouths here and there – I'm the first one to do it, but that's not a nice comment. That's for sure."
"When I saw that, I knew it was a lot."
"I saw that at nighttime a few days ago, and I could not sleep because I take people's problems when I care about the person. I was like, 'Oh, my God, poor Lisa was living this, and he was planning this whole thing behind her back.'"
"Disappointed isn't even the word."
"You kind of think to yourself, 'I was sleeping with the enemy. This guy was trying to do this to her."
"Collectively, from what we learned through Lisa as she's giving us the play-by-play…he didn't do things in a sensitive, appropriate way."
"I think everyone's just disappointed in the way he handled things and treated Lisa in the end."
See for yourself:
What are your thoughts on Lenny's hot mic moment? Drop your opinion in the comments.
---