Real Housewives of Miami: Where Are They Now?
Don't hate them because they have it all, hate them because they're beautiful.
Emily Bertha July 22, 2019 6:48pm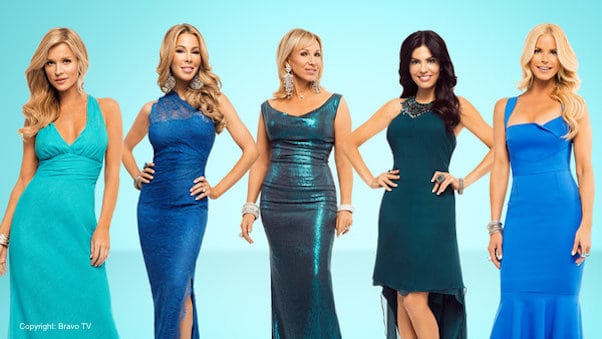 There may have only been three seasons of Real Housewives of Miami, but we'll never forget this short lived series.  It's been six years, and it's about time we caught up on what these former Housewives are doing now.
LEA BLACK
Lea Black's final appearance on Bravo wasn't during the RHOM reunion. In September 2017, she appeared on Bravo show, Flipping Out. Lea sought out Jeff and his design company to help decorate her new LA home during the episode. Of course, the former Housewife still spends a lot of time at her Miami residence as well. Lea remains politically active on social media and on her part pop culture / part political podcast, "Lunch with Lea."  She also stays busy with her skincare line and is heavily involved with philanthropy, particularly when it comes to helping teens in need in Miami. Just thinking about how busy her life still exhausts me.
ADRIANA DE MOURA
This Brazilian beauty listed her Miami mansion last year and is still apparently restoring the 1920s yacht that she plans to live on after it's finished. However, like pretty much every construction project ever, it seems to be taking way longer than expected since Adriana de Moura has been planning this for years. For now, she's still busy traveling and not fixing her broken website link…
ALEXIA ECHEVARRIA
As the owner of Alexia + Frankie's Beauty Bar, this Miami lady has her hands full running a business. When she's not working, Alexia Echevarria spends her time in bars and restaurants where one item costs half my weekly salary. After her husband's death, she ran into legal trouble with her stepsons over the estate. There were basically lawsuits back and forth, but something tells me there's plenty of money to go around…
Marysol Patton
Marysol Patton's mother, Mama Elsa, was as much of a figure on RHOM as she was. Elsa passed away in May, but Marysol is just as animated and full of life as her mother. Marysol retired from her career as a publicist, and it seems she's basically just living a life of leisure and luxury. The link to her website is broken as well, which tells me she's more concerned with pleasure than business, and who could blame her?
LARSA PIPPEN
This former NBA Housewife separated from her husband, Scottie, and filed for divorce once again. However, the end of her marriage certainly hasn't stopped her from continuing to live her best life. Like many Housewives before her, Larsa Pippen now has a website and blog where she talks about wellness, fashion, and basically anything and everything else that falls under the "lifestyle" category. Larsa is best friends with reality stars, Kim Kardashian and Kourtney Kardashian and she's there for many of the major moments of Kardashian/Jenner drama.
CRISTY RICE
Rice Krispie's still hasn't snatched Cristy Rice up as a lifetime sponsor yet, and I can't help but feel they're both missing out on a great opportunity. Instead of appearing on cereal boxes, Cristy continues to spend the majority of her time with her kids. Inspired by her time spent with them at her favorite place, the beach, she decided to start a swimwear line. The bathing suit line, Cuban Rice, seems to be doing fairly well since half of the inventory is sold out (either that or it's doing so poorly they haven't bothered to restock…).
LISA HOCHSTEIN
After struggling with infertility issues, this former Housewife finally became a mother. Her son is now four and she welcomed a daughter in 2019. From her social media, it seems that she happily spends most of her time with her family. The former model hasn't been shy about getting work done, and it's no wonder when her husband Lenny is a plastic surgeon. Lisa Hochstein also helps her husband run their medical spa, Hochstein Medical Spa, in Miami. On the company's Instagram, she's often a poster child for work her husband does.
JOANNA KRUPA
Since the show, Joanna Krupa found herself a new man. She divorced Romain and shortly remarried to Douglas Nunes during a small ceremony in her home country of Poland. Now, Joanna is thrilled to be pregnant with her first child! The fact that there are so many people who cry tears of JOY at positive pregnancy tests still baffles me…The soon to be mom is staying busy with her organization, Angels for Animal Rescue. She remains a strong animal rights activist and continues to run the non-profit that she co-founded.
ANA QUINCOCES
Ana Quincoces went from Bravo to appearing on The Food Network. Not one to stay still, Ana keeps busy as an author, chef and creator of  the food and drink brand Skinny Latina (can we get a collaboration with Bethenny Frankel?). Her blog has won awards for best food content creation, and I recommend not checking it out unless you have a readily available kitchen where you can try the recipes for yourself right away.
KARENT SIERRA
Like her former co-star, Lisa, Karent Sierra also has a medical spa, although Karent's also includes dental services as well. This former Housewife has been constantly traveling around the world since she left the show. However, not all of her travel is for pleasure. Karent travels to many countries, such as Guatemala and Kenya, and provides dental and medical care for children in need through The Sharing Smiles Foundation. Although she is often abroad posing for pictures like an Instagram influencer whom you both envy and pity at the same time, this former Housewife makes sure to visit her home in Miami and provide medical services to the children there as well.
Are your surprised at how much any of these Miami ladies' lives have changed? Let us know below!
---