RHOC Alum Elizabeth Lyn Vargas Accuses Braunwyn Windham-Burke Of Acting Differently When Filming
Ashley Hoover Baker July 23, 2021 4:00am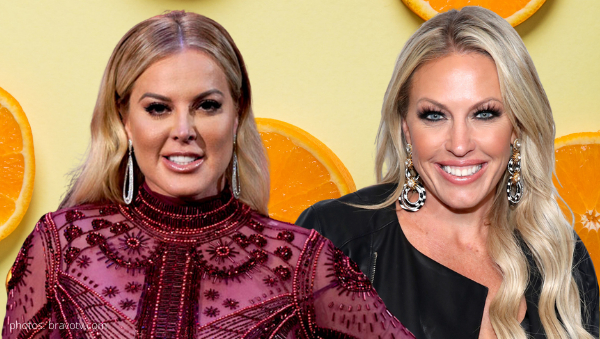 Former Real Housewives of Orange County star, Elizabeth Lyn Vargas, joined S'More Date creator Adam Cohen Aslatei (ACA) on an episode of S'More Live on Instagram and spilled the tea on her former castmate Braunwyn Windham-Burke and more!
Elizabeth's reality:
Though the "single and ready to mingle" former Real Housewife made several lasting friendships during her time on RHOC– particularly with Emily Simpson and Kelly Dodd– she didn't have the same outcome with Braunwyn.
"Trying to get to know Braunwyn was totally genuine. I thought it was supposed to be reality and that was my reality."
Fake for the cameras:
Elizabeth didn't let Braunwyn off the hook that easy.
The Vargas Vodka creator confessed that Braunwyn turned it on for the cameras when asked if any of her former costars acted differently when filming.
Reminiscing back to the 'traumatic' situation Elizabeth had on camera, she detailed, "They [production] had kind of set her up to be like a savior of me and I didn't even know her."
She continued, "As soon as my traumatic experience was over, she never even contacted me. Never asked how I was. Didn't really care."
"[Braunwyn] was like, 'yeah, whatever.' And I was like, 'Wait a minute. You were so sincere on camera,' so I was disappointed."
Elizabeth's take on Braunwyn and Sean Burke's separation:
Simply put, "It needed to be."
Elizabeth later circled back to Braunwyn's marriage during a game of Shag, Marry, Remove.
Spoiler alert- She removed the father of seven due to the complex nature of his marriage.
"Because of the situation with Sean, I don't want to hurt his kids. It's already a… vibe."
One season wonder:
Elizabeth is moving on from her single-year stint as a Real Housewife.
"I was hurt for a while, but I'm ok now. I transitioned nicely. I wish I would be back, but it is what it is."
Watch the interview for yourself!
View this post on Instagram
GIMME S'MORE:
Check out S'More Date on Instagram for weekly celebrity interviews.
Like the show Love Is Blind, S'More Date builds meaningful connections between people before they see one another. Download the S'More Date app!
Do you think Elizabeth should have been brought back for another season? Sound off below!
---