RHOC's Braunwyn Windham-Burke Confirms She Is Living Alone
She and her husband are "redefining what marriage means."
Ashley Hoover Baker October 20, 2020 9:37am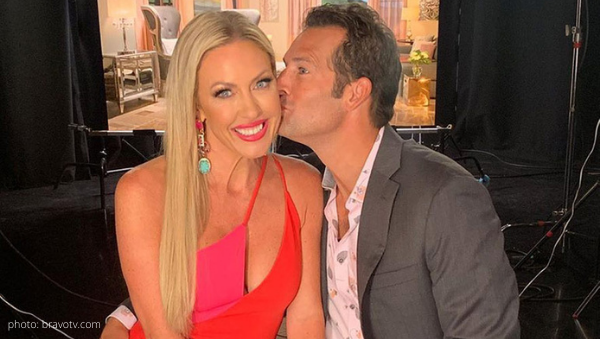 She may manage to wrangle a family of nine and still look like a ten, but that doesn't mean it's been easy for Real Housewives of Orange County's Braunwyn Windham-Burke.
If you are one of the tens of thousands who are boycotting season 15 (as evidenced by the ratings,) you may have missed the show's sophomore star, Braunwyn, admit that she is battling alcohol abuse. "Today I am 256 days sober," she said on the RHOC premiere. "What I went through eight, nine months ago, I've already dealt with that. I'm already on to new dramas, new disasters."
Braunwyn isn't only navigating through a personal evolution, she's also going through an evolution in her marriage.
Marriage on their own terms:
The mother of Sean Burke's seven kids opened up to ETonline.com "redefining what marriage means."
During a tour of her new 8,000 square-foot home – that Sean is not living in, the real housewife addressed the rumors that the busy parents have called it quits. The truth, however, is actually the opposite.
"I love him dearly, we haven't gotten along this well in a long time," Braunwyn shared. "We're redefining what marriage means to us. Not following the old, antiquated rules anymore."
Brown Wind Braunwyn flat-out rejected the rumors and tabloid reports that she and Sean are planning on divorce, and explained that they've got an open marriage and are making things work in their own way.
View this post on Instagram
Writing their own rules:
Braunwyn detailed, "We're finding a new normal. We're renegotiating the terms of the contract when it comes to our marriage, for sure." "We are… we will be married forever. We have one hundred percent faith we are going to raise our kids and grandkids together."
"That being said, do we have to fall into the social norms that everyone else does? No," she added. "We're doing it our own way. Like I said, [it's a] modern marriage."
Want to stay up-to-date with all your favorite Bravolebrities and reality tv stars?
Check out the On This Day Entertainment podcast for all the latest celebrity news and gossip you need! Here is the most recent episode.
Do you think Braunwyn and Sean's marriage will end up working out? Sound off in the comments!
---