Jon Hamm Comments On Erika Jayne Girardi's Earring Scandal: "Give Them Back!"
"You just want to shake her and go, 'Honey, they were never yours!'"
Ashley Hoover Baker September 20, 2022 5:44pm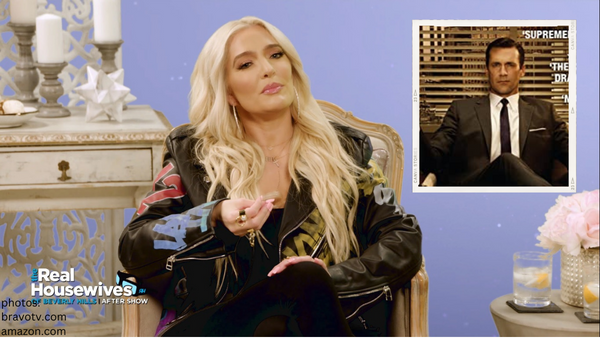 Mad Men star, Jon Hamm, joined fellow Real Housewives fan/the King of All Media, Howard Stern, on an episode of his Sirius XM show and dished on the topic on all of our minds … Should Erika 'Jayne' Girardi give back the diamond earrings purchased with stolen funds? 
**When I thought the Bridesmaids actor couldn't be any more attractive, he outed himself as a Real Housewives of New Jersey, New York, and Beverly Hills fan. (swoon)**
The infamous $1.4M diamond earrings:
The "shock jock" asked Jon if he believes the controversial Real Housewives of Beverly Hills star should return the earrings purchased with funds stolen from the victims of Girardi & Keese.
Jon was adamant when sharing his opinion.
"She should [give them back]," agreeing with the iconic radio show host's opinion.
Jon continued, "It's the circular argument that 'it's not responsible.' You just want to shake her and go, 'Honey, they were never yours! Give them back!'"
Watch for yourself!
Do you agree with Jon Hamm and Howard Stern that the earrings should have been returned? Sound off in the comments.
---