RHOBH's Erika Jayne Saved Receipts Of Tom Girardi's Affair
'The Pretty Mess' posted a collection of texts between Tom and his alleged mistress on social media.
Ashley Hoover Baker December 19, 2020 9:50pm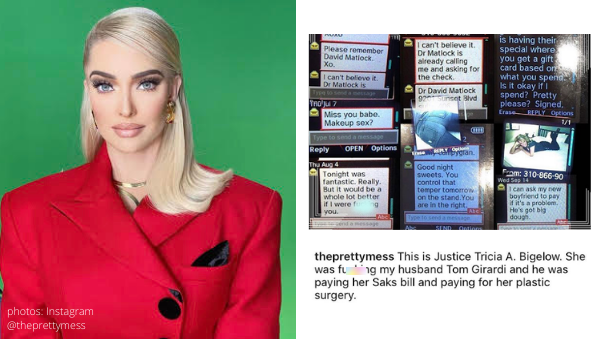 The bombshell news of the Real Housewives of Beverly Hills' Erika Jayne and husband's Tom Girardi split was just the tip of the iceberg for 'The Pretty Mess.'
Dirty deleted:
Most recently, Erika posted -then quickly removed- photos taken of an antique cell phone belonging to her octogenarian husband, revealing oodles text messages allegedly sent to and from Tom's alleged mistress, California judge Justice Tricia A. Bigelow.
What a time to be alive.
Thankfully for the Bravoholics of the world, the XXpen$ive singer saved receipts of her husband's alleged affair amid their divorce embezzlement lawsuit. Though Erika removed the post, users were quick to take screenshots. Thanks to Instagram's @itsallhappeningx for memorializing this critical evidence.
View this post on Instagram
Who is Justice Tricia A. Bigelow:
According to Page Six, "Bigelow is a judge for the 2nd District Division 8 of the California Court of Appeal. She's had the position since 2008 after being appointed by then-Gov. Arnold Schwarzenegger."
On a silly note- The Deuce Bigelow Male Gigolo memes were off the charts. This was my personal fav…
View this post on Instagram
The text messages:
These are not for the weak stomached.
Erika's post was a collage of text messaged that appeared to be a on Nokia screen along with the caption, "This is Justice Tricia A. Bigelow. She was f–king my husband Tom Girardi and he was paying her Saks bill and paying for her plastic surgery."
One text message read, "Miss you babe. Makeup sex?" while another message teased, "Tonight was fantastic. Really. But it would be a whole lot better if I were f*cking you."
A less damaging revelation for visual thinkers….
There was a Dr. David Matlock mentioned several times. "I can ask my new boyfriend to pay if it's a problem. He's got big dough."
After some low-key Nancy Drew internet sleuthing, I learned there is a Dr. David Matlock who is an LA based plastic surgeon.
Oh, and they're both based off of Sunset Blvd.
Just sayin….
Skeptics think the theatrics are a ruse:
There's a buzz in the Bravo community alluding to the fact that the 'drama' Erika produced on social media was orchestrated to distract fans and skeptics from the depth and complexity of Erika and Tom's legal issues.
View this post on Instagram
Need a catch up on all of the recent Bravo scandals?
It's been a busy week for the network, so make sure to check out the Reality TV & Me podcast for the latest news and gossip! Here is the most recent episode.
Now for the burning questions on all of our minds…Is this an old photograph or does Tom Girardi use a dinosaur cell phone? Drop your deep thoughts in the comments!
---