Denise Richards And Aaron Phypers Marriage In Trouble
The marriage is 'hanging on by a thread' and they are sleeping in separate rooms.
Ashley Hoover Baker June 26, 2020 4:47pm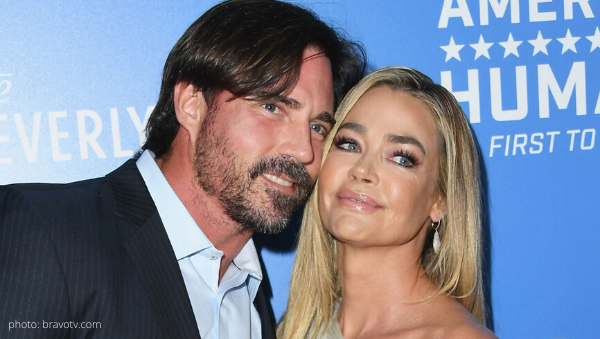 Real Housewives of Beverly Hills' Denise Richards and Aaron Phypers' marriage is in trouble amid rumors that Denise had an affair with Brandi Glanville. In case you missed it….
Things are not looking good for Denise and Aaron:
Lisa Rinna may be the least of Denise's problems as the RHOBH storyline moves to the alleged affair between the A-list Hollywood actress and Brandi.
According to the DailyMail, the alleged "months-long affair" with Brandi stating that Denise told her she was in an "open marriage," which was news to Aaron.
The Blast reported, "The couple's relationship is 'hanging on by a thread' and they are sleeping in separate rooms. While Denise Richards has denied any alleged affair took place, Brandi Glanville's blabbermouth has left her husband 'embarrassed' and 'angry.'"
Denise denied the rumor:
Denise and her camp stayed quiet when the rumors began to circulate, but the scale of the rumor was too massive to ignore. Denise's public relations representative told E! News "none of the affair rumors are true."
"It's put Denise in an awkward spot because she swore to Aaron there was no affair, but Brandi's blabbing makes it look like Denise is lying," an insider told OK! Magazine. "Regardless of what may or may not have happened, he's sick of it and embarrassed."
Brandi clapped back:
A source told E! News, "All the drama around these accusations has been filmed, Brandi has text messages and other forms of proof, she claims."
Denise and the other housewives:
According to The Sun, "Denise is reportedly talking to some cast members but not others. However, 48-year-old is still apparently on new cast member Garcelle Beauvais', 53, good side. An insider told HollywoodLife Denise "appreciates [Garcelle] defending her" against Brandi."
Need more RHOBH?
Check out the On This Day Entertainment podcast to stay up-to-date with Real Housewives news and get weekly RHOBH recaps. Here is the most recent episode with David Yontef from the Behind The Velvet Rope podcast!
Do you think there is any truth to the hook-up rumors between Denise and Brandi? Sound off in the comments!
---