Ray J Claims Sex Tape Release Was "A Deal And A Partnership Between" Kim Kardashian, Kris Jenner And Himself
Ashley Hoover Baker May 4, 2022 6:00pm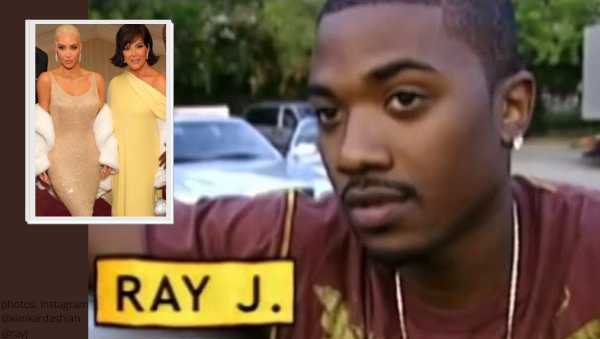 Days after Kim Kardashian broke the internet wearing Marilyn Monroe's gown to the Met Gala, her ex-boyfriend/co-star, Ray J dropped bomb after bomb regarding his infamous sex tape with the Keeping Up With the Kardashians alum.
Calling Out the Kardashians:
In an interview with Daily Mail, the rapper confessed "I've sat in the shadows for over 14 years allowing the Kardashians to use my name, to abuse my name, make billions of dollars over a decade-and-a-half talking about a topic I've never really spoken about."
"I've never leaked anything. I have never leaked a sex tape in my life. It has never been a leak."
"It's always been a deal and a partnership between Kris Jenner and Kim and me and we've always been partners since the beginning of this thing."
Big Business:
According to reports from Daily Mail, Ray J noted "putting out the video was his idea and he suggested it to Kim after they saw how Paris Hilton's profile was boosted when the film she made with poker player Rick Saloman was leaked."
With the help of Vivid Entertainment, Ray J, Kim, and her mom were contractually bound to three films total: one in Santa Barbara, the second in Cabo San Lucas, and the third was a teaser for the Cabo footage.
Allegedly, Kim "kept them all – she had to go find that tape [Sex Tape Cabo #1] and then present it. I never had a tape in my possession in our whole relationship."
Ray J reiterated, "I never had a single one at my house – she had them at her house. She's always had all the tapes in a Nike shoebox under her bed."
"I'm sure she has bigger beds now and better boxes. That's how it all came about. Once I pitched the idea to her, just playing around a little bit, that's when she jumped on the idea, talked to her mom and it was out of my hands from there."
After multiple mic drop moments with Daily Mail, Ray J gave us the tea we needed…there are multiple sex tapes.
"They're not letting the world know that there's a bunch of sex tapes that we made but they're not going anywhere because she has them all."
Mic drop.
Why is Ray J speaking now?
In case you missed dildo-gate, Kim said that Ray J may have shoved a sex toy in her backside while she was sleeping on her new Hulu show, The Kardashians.
The comment Kim made Ray J "sound like a rapist" and the father of a three-year-old doesn't want his daughter to think her dad is "a bad guy who exploits and disrespects women."
And in a private text message to Ray J, Kim admitted: "If you're upset about the dildo comment it was clearly a sarcastic joke and I was laughing when I said it."
New beginnings:
After admitting his truth after all these years, Ray J "woke up and said, you know what? For the remainder of my life, I'm going to live in my truth and not in the lie that's been created by Kris Jenner and Kim."
Well, there you have it.
Do you believe Ray J? Sound off in the comments.
---