Patti Stanger Dishes On The Millionaire Matchmaker, Her Favorite Bravolebrities, And Beyond!
Find out which RHONY housewife Patti recently set up and which Bravolebrity she's least fond of...
Ashley Hoover Baker March 7, 2021 3:27pm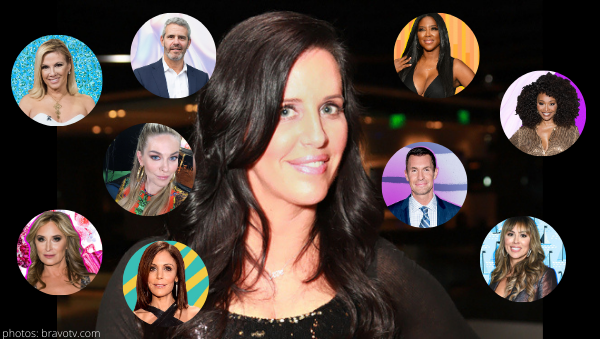 Patti Stanger, joined S'More Date creator Adam Cohen Aslatei (ACA) on episode 74 of S'More Live on Instagram to talk about Millionaire Matchmaker, her Bravolebrity friends (and foe), and beyond!
After a game of Two Truths And A Lie and Patti's craziest dating story (that ended in a Ft. Lauderdale swing club that her mother set her up on), ACA got Patti to spill more tea than she anticipated.
The Millionaire Matchmaker's origin story:
Many Bravoholics know Patti is "the hustler of all hustlers," as ACA joked. He asked The Millionaire Matchmaker creator, producer and star how she took a great concept for a show and got it on the small screen.
"For anyone who wants television show based on your life, it's not an easy road," Patti detailed.  "I went up and down; I was under contract with ABC, Simon Cowell, Ryan Seacrest. You don't know what I went through."
The best selling author explained that The Millionaire Matchmaker began as a 'Sizzle' reel "for someone else." After the video's success, Patti's business banked a million dollars HER FIRST YEAR. She even had banks calling her recommending she start investing her earnings.
Casting Millionaire Matchmaker:
Regarding Patti's assistants and guests for the show, she described how the recruiting process evolved over the years.
"My sidekicks were my real team in the early days."
As more buzz circulated around the show, several team members developed a "swelled head" and, in turn, demanded "too much money."
Long story short, "We had to get a new team."
Patti continued, "So, Justin [Bird] and David [Cruz] and all of them came aboard. We casted them, but they were going to get trained by me. David is actually a matchmaker and actually does this for a living."
The casting team looked for something in the applicants' background that made them decide to include them on the show. Patti reiterated, "You had to have some experience, but I was training  them."
The evolution of Millionaire Matchmaker to Celebrity Matchmaker:
In Patti's non-televised life, she had a habit of setting up her famous friends. The show shifting from setting up millionaires to celebrities was an organic transition for the self-made millionaire.
She detailed that "it took years, YEARS for Bravo to allow me to do it. I knew it would be the highest rated season. I knew everyone would go crazy."
Patti dished the dirt on her worst 'celebrity' guest on TMM. Do you know who 'Vegas Dave' is? Evidently, he's a 'little twat,' according to Patti.
View this post on Instagram
Patti's intel on the Real Housewives:
In regards to the Real Housewives of New York cast, "I've got 'em all calling me: Eboni [Williams], everyone. I'm like, 'I should just go on the show and fix them all up. They're all single- including Ramona [Singer], although she'd be a handful."
Though the self-proclaimed 'hookup queen' wouldn't immediately name the Real Housewife that she cares for the least, ACA's persistence paid off.
Patti teased, "I can't say that person, but it starts with a K and a D. K. D. You'll figure it out. And there's a reason! She's on a housewives show. She's ruthless…don't ever tell her a secret because she'll tell the whole world and she doesn't give a shit about you. Everybody hates her. EVERYBODY. Just use your imagination."
An Instagram live viewer asked if the 'K. D.' stood for Kelly Dodd. Patti confirmed it was indeed the now-Mrs. Rick Leventhal, but she didn't spill the reason for her disdain towards her. (I have an active imagination that is currently running wild.)
Patti also shared her connections with Real Housewives of Atlanta's Cynthia Bailey and Kenya Moore, info on Leah McSweeney 's journey to Judaism and why she thinks Sonja Morgan, Andy Cohen and Flipping Out's Jeff Lewis are still single.
Watch for yourself:`
Find out which RHONY star was set up by Patti (the day before ACA's interview), who her two Bravolebrity besties are, and why she believes she's still single. Oh, and Patti even called out Bethenny Frankel's relationship status.
If you know PS, you know you hear things exactly as she sees it AND she doesn't hold back. Enjoy the ride…
View this post on Instagram
In case you missed it…
S'More Date has become among the fastest growing dating apps… and we hear it's full of celebrity singles!!! Based on Patti's commentary about the app during the interview, you may even see her there!
You can also check out S'More Date on Instagram! The best part of the S'More Date app? Like the show Love Is Blind, S'More Date, builds meaningful connections between people before they see one another.
Like Patti tells her girls, men fall in love with someone they have a deep connection with- not just physical attraction.
Which New York housewife do you think Patti recently set up? Drop names in the comments!
---