Paris Hilton Details Disturbing Stories Of Harvey Weinstein Being A Predator
CONTENT WARNING!
Ashley Hoover Baker February 26, 2023 5:16pm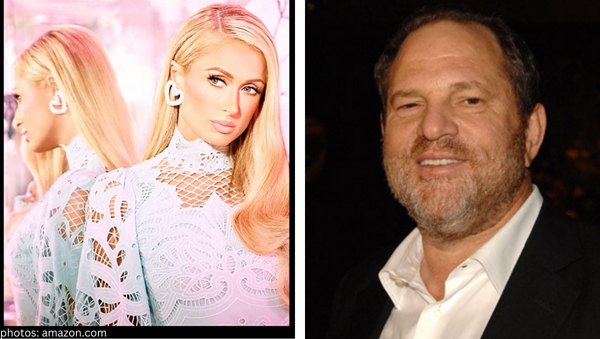 Paris Hilton shared two very disturbing encounters she had with Harvey Weinstein at the 2000 Cannes Film Festival when she was only 19-years-old.
The Simple Life star, now 42, told Glamour UK the disgraced movie producer even followed her into a bathroom and began "banging on" the door of her stall while blubbering, "Ya wanna be a star?"
How they met:
Paris said she first met Harvey during the peak of his fame and influence. "I was at lunch with my girlfriend and he came up to the table and was like, 'Oh, you want to be an actress?' And I said, 'Yeah, I really want to be in a movie.' I was a teenager, so I was impressed by him."
Harvey suggested, "Well, we should have a meeting" to the then-teenager. "You can come up to my room and read scripts."
"I just didn't want to go, so I never went," clarified Paris.
It gets worse:
Harvey was more aggressive the next night when he ran into Paris at a gala he was hosting.
"I went into the bathroom and then he followed me. He tried to open the door, he was hammering on the door, banging on it."
Paris recalled, "I wouldn't open it, because I was like, 'I'm in a stall, why do you want to come in here?' And I just wouldn't open it."
'"Security came and literally carried him away and he was like, 'This is my party,' going nuts."
"It scared me and freaked me out."
Intimidation:
The teenage Paris didn't report what happened with Harvey Weinstein because he "was just someone so powerful in Hollywood who everyone was terrified of."
"I didn't even want to say anything about it because I was like, 'I don't want people getting mad at me for saying anything,' because it was just a known thing. He was just like that and people were like, 'OK, just turn a blind eye.'"
Harvey has spent years denying allegations of non-consensual sex and has also insisted that Paris' story about him at Cannes is untrue.
He will spend the next 39 years in prison for rape and sexual assault.
The staff at Taste of Reality has no tolerance for rapists, so feel free to drag Harvey Weinstein for trash in the comments.
---