Morgan Wade's Ex Cries Over Seeing "This Certain Person" (Allegedly Kyle Richards) At Morgan's Concert
"Of course, seeing that person at my ex's show ... it fucking hurts."
Staff July 8, 2023 3:34pm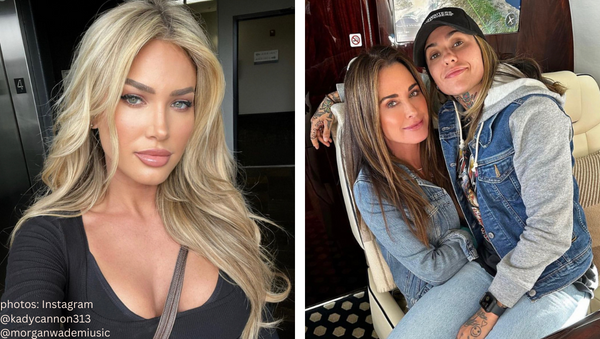 The Kyle Richards and Morgan Wade plot thickens.
Morgan's ex-girlfriend, Kady Cannon, took to her TikTok page to share the struggles she's experiencing while trying to move on from the country music singer.
In a car vlog posted in March of 2023, Kady (who previously appeared on Temptation Island) was visibly distraught after seeing the tatted crooner with a "certain person," who was never named. "Yesterday my ex was in town and played a show here."
For context, the show was on March 23rd at The Troubadour in Los Angeles. Both the Real Housewives of Beverly Hills star and her friend/gnat, Teddi Mellencamp were in attendance. 
"I fucking knew this certain person was going to be at her show, but yet, I had to go and fucking look."
While wiping away tears, Kady  cried, "Of course, seeing that person at my ex's show … it fucking hurts."
Instagram's @FaceReality16 (who was the Kyle/Morgan whistleblower) continued her deep dive into their relationship and reposted a pic of Morgan's iPhone notes that stated, "It's just the way you started a relationship with the woman you told me loved her husband very much and I had nothing to worry about that threw me off."
ICYMI, Kyle, and her husband of 26 years, Mauricio Umansky, announced they had a "rough year," but are not getting a divorce.
Rumors of Kyle and Morgan began to circulate about 24 hours before Kyle and Mau decided to drop a joint statement to the 'gram clarifying they were having problems but were not divorcing.
The very next day, Mau posted photos of him and Kyle celebrating the 4th of July to help reinforce their narrative. The couple's PR teams are working overtime!
View this post on Instagram
Do you think Kyle and Morgan are more than just "close friends?" Sound off in the comments.
---