Luis Ruelas's Ex Posts Photo With A Cake Saying She, Unlike Teresa Giudice, 'Dodged A Bullet'
"Always trust your gut."
Ashley Hoover Baker January 4, 2023 7:10am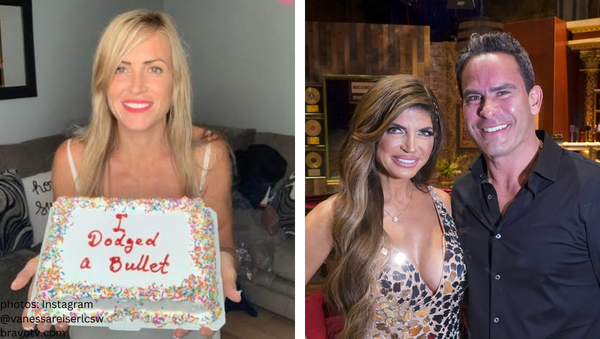 Just because the Real Housewives of New Jersey star hasn't been bothered by the red flags waving around her new husband, Luis Ruelas, that doesn't mean the rest of us (not in the love bubble) don't see them.
This comes on the heels of Luis getting called out for gifting Tre's dorters daughters fake Cartier bracelets for Christmas.
The post:
Most recently, Luis' ex, Vanessa Reiser, took to her Instagram grid to share a cake with a playfully shady message going to the new Mrs. Luis Ruelas.
The snap features a smiling Vanessa holding a sprinkle cake *not cookies* with the text 'I Dodged a Bullet" paired with the caption, "Gratitude for being the badass that hit the road and trusted my gut. Always trust your gut. I dodged a bullet. 2023 is for trusting your gut some more. 💪🏼 @yvonnecatania (that cake though…lol)"
View this post on Instagram
The comments:
As always, the comment section of Vanessa's post got lit. Here are some highlights …
"It's the counterfeit Cartier bracelets for me …."

"I say I dodged a bomb… it is still ticking and doing damage to my kids…. uugh!"
"Girl you certainly did ! When will it crash and burn for a certain jersey Housewife ?! I predict really soon."
"Intuition is always one of the most important mechanisms we have as humans. Don't get fooled by charm or all happy things when your intuition is screaming at you."
"Waiting for your book… 😁"
"Ummmmm…you actually seem to have dodged bigger than a bullet sis…mb a grenade!😳"
Teresa has yet to comment on the cake.
What's your gut feeling regarding Luis? Sound off below.
---