"Love Me As I Am" Book Review
From Haiti to Hollywood!
Imani Craig April 19, 2022 6:52pm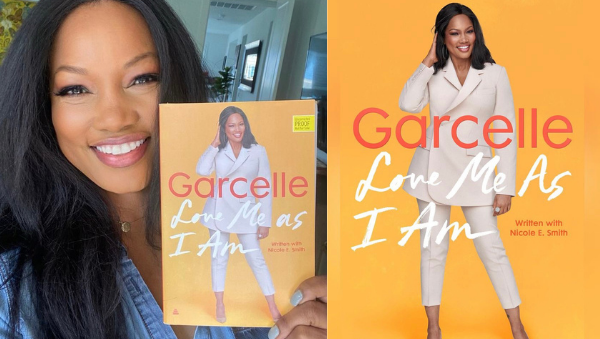 If you want a starring role in her life, you better drop the act. But, if you'd like to read about it, you better pick up Love Me As I Am!
Actress, activist, model, and author, Garcelle Beauvais, is giving fans an inside look into her life: the good, the bad, and the not so pretty.
In her debut memoir, Love Me As I Am, the RHOBH star dishes on her experience being black in Hollywood; navigating marital and fertility issues; and of course, the juicy BTS goss from her time on the Housewives.
Bravo universe has no shortage of reality TV page turners, with Garcelle's tell all making no exception. The raw and real stories littered throughout the pages allows the reader to instantly connect with her. It'll make a fan out of you yet!
Top Moments from Love Me as I Am:
Being a Black Woman in Hollywood
I am not an anomaly. Nor is Garcelle. However, when your formative years are spent feeling like an "other", or an outcast, its easy to feel alone on an island.
How?
Well,  you don't see yourself represented in ads, magazines, or TV shows. The beauty standards are the antithesis of everything you appear to be, despite trying to alter them (hello heat damage!) This is the reality for many black men and women who grow up in predominantly white neighborhoods.
In Love Me As I Am, Garcelle talks about the culture shock she experienced moving from her colorful hometown in Haiti, to the snow ridden streets of Boston.
It was refreshing (weirdly) reading about how another's struggles with the same racial insecurities, almost completely mimics my own. Two different generations, two different cultural backgrounds, and yet, the same isolating experience.
Garcelle also shared her perspective as a black mother to biracial twins. Garcelle's eldest son, Oliver, is from her first marriage with Danny Saunders (1991-2000) but her twins, Jaid and Jax, she shares with ex-husband Mike Nilon (2001-2011).
Though her twin sons have a white father, it was important for her boys to both learn and love her Haitian culture. In fact, in 2013, Garcelle published her first children's book titled, I Am Mixed, so that her children, and other multi-cultural children, can see themselves. Name drop moment: Halle Berry wrote the forward!
Hollywood and Housewives Tea Spill
Bravo TV fans rejoice! Garcelle shed some much needed light on a few controversial BH moments. I'll briefly share a few jaw dropping tid-bits but the rest you'll have to read for yourself!
Kyle Richard's Children's Hospital LA mishap — During the Real Housewives of Beverly Hills season 10 reunion, Kyle dropped the bomb that Garcelle neglected to pay for her Mexico trip that she bid on during Kyle's benefit for Children's Hospital LA. Garcelle shared the deep-seeded reason as to why this allegation bothered her. Like I mentioned above, Garcelle is very candid about her "blackness" and this trope triggered the stereotypes black people know all too well. On top of that, Garcelle said that no one from the organization reached out to her for payment, she never received an invoice, and when she was made aware, she immediately paid her debt.
Garcelle didn't agree to appear for another season unless she had public conversations with both Kyle and Lisa Rinna re: her issues from last season.
Garcelle connected the most with Sutton Stracke while filming, and Kathy Hilton's laid back energy surprised her the most!
While doing a week long audition for a co-hosting spot on The View, Garcelle shared that the ladies were less than welcoming…one even kicked her under the table!
Garcelle dated Coming to America co-star Eddie Murphy. Bonus fact: per Garcelle, his acting isn't the only gifted thing about him. IYKYK
Only Accept What You Deserve
Whether she's opening up about her failed marriages, advocating for dream roles, even down to writing Love Me As I Am, the common thread weaving all of Garcelle's stories together is the simple notion to only accept what you deserve.
One of her quotes that really rang true was "It was time to assert myself, not revert to accepting what was given to me." Wow. Wow. WOW. This line completely summed up the whole book. Married to a partner for 10 years and they had affairs for 5 of those years? Bye! Being told a project didn't have a need for a black actress? Hand deliver your resume and headshots to the director! Want to see more black and brown voices amplified? Write a book.
Love Me As I Am is a novel black women, women, and people everywhere should add to their reading lists. From behind-the-scenes moments on blockbuster movie sets, to how finding and establishing your "front row friends", there's a lesson in this book for you.
Pick up your copy at your nearest bookstore or here!
P.S. Pease try to avoid trash cans…
What are your thoughts on Garcelle's book? Let me know your fav moments!
---