Receipts Prove 90DF's Larissa Dos Santos ICE Run-In Was Not A Publicity Stunt
There is an upcoming hearing that will determine if Larissa can remain in the US.
Ashley Hoover Baker September 22, 2020 12:19pm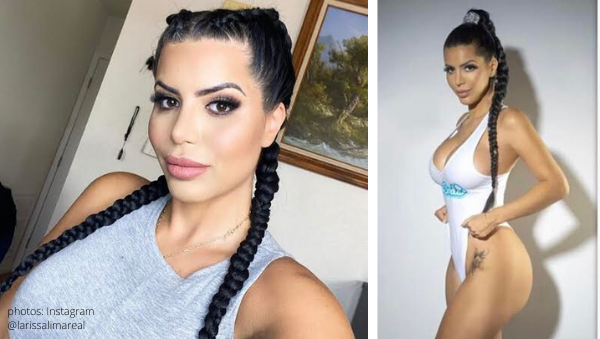 Who goes again the queen will die….or eat your words.
If you were one of the oodles of people who accused 90 Day Fiance star, Larissa Dos Santos Lima, of faking her Immigration and Customs Enforcement run-in for publicity, there are receipts proving the encounter was real.
In case you missed it:
The newly nipped/ticked/injected/filled ex-wife of Colt Johnson performed in an hour long lingerie show on CamSoda and stock piled $100,000 of business for the XXX site.
After news of the record-breaking live stream dropped, Larissa was detained and released by ICE. She was getting into a U-Haul moving van with plans to move to Colorado with her boyfriend, Eric Nichols.
According to reports from TMZ, "Sources close to her previously claimed agents were simply checking on her immigration status, and she later posted that everything was 'good to go' after her release."
Larissa's critics were quick to assume this was a PR stunt to gather more attention for the Happily Ever After star.
The receipts:
TMZ got their hot hands on Homeland Security documents stating the reality tv personality was "arrested Saturday and released on her own recognizance."
"Larissa's been 'placed in removal proceedings' in accordance with the Immigration and Nationality Act, and she has a hearing coming up to determine if she'll have to surrender for removal from the U.S."
It's about to get clear as mud….
According to reports from the LA Times, Larissa's rep stated "This incident can be chopped up to as 'a misunderstanding' that was promptly handled by her legal team."
The Taste of Reality team will keep you updated as these opposing claims are clarified.
Larissa twirls on her haters:
First and foremost, Larissa's IG page went from public to private after her ICE encounter. Here is a screen shot from a loyal follower!

Larissa and Eric have officially made it to Colorado Springs and are settling down in their new home.
Need more 90DF in your life?
I can't say I blame you. Check out the Pink Shade podcast to hear hilarious breakdowns of your favorite shows on TLC and beyond. Here is Erin and Mary's most recent episode!
Do you think this will be the end of Larissa's legal issues? Sound off in the comments!
---