Lala Kent Promises VPR Finale Scuffle Was "Not Planned"
"He was a giant fan who continued to come into our area and act inappropriately."
Staff September 8, 2023 6:20pm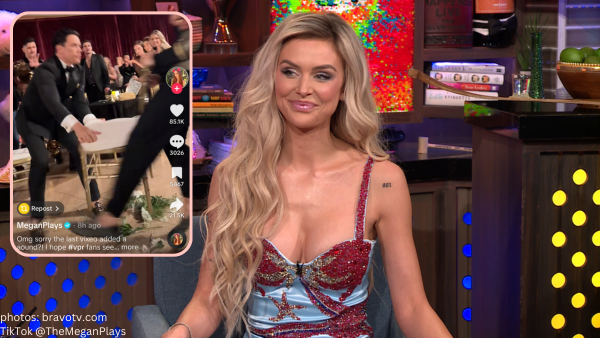 Vanderpump Rules star, Lala Kent, promised her Amazon Live audience the squabble that ensued at the season 11 finale party was "not set up."
ICYMI, a mystery person was recorded throwing a glass vase in the direction Tom Sandoval and Billie Lee were socializing. Security and Sandoval intervened. 
The Give Them Lala founder began, "There is no version on the planet that production or any network like, 'You know what? Let's set up someone throwing glass everywhere.'"
"We know people are sitting down. We know there are open-toed shoes. But let's have that happen," reasoned Lala.
"That is absolutely insane for anyone to think that was a planned thing."
"Someone throwing a glass with the drinks … THROWING the entire glass with a drink in it. Then, picking up a vase that's probably half my size and hawking it across the room too."
Not only was the party crasher "clearly intoxicated," but he "continued to come into our area and act inappropriately."
The "giant fan" of VPR kept trying to get Lala "to drink."
"I told him 17 times, 'I'm sober. Please remove this whiskey bottle from out of my grill. Thank you.'"
"He continued to do it. "
The rowdy loafer lover "was removed multiple times by security."
"He clearly was so gone that he felt the need to come back and it would be cool and then that's when things got heated."
"I don't know if they captured it on body cameras or if it was just captured on people's phones, but that's what happened."
Making sure there was no ambiguity in her story, she added, "This was clearly not planned, okay?"
"People could have gotten very hurt with what he did."
Do you believe that the kerfuffle in question wasn't staged? Sound off in the comments.
---