Lessons Learned From The "Give Them Lala" Memoir
You know Lala Kent, but do you know Lauren Burngingham?
Imani Craig May 26, 2021 9:16am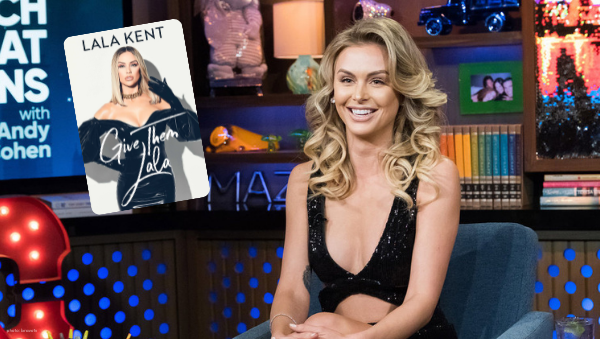 You know her as wearing pjs on pjs, drinking out of baby bottles, Ocean's mama, and now, you know her as author, Lauren Burningham. 
In her debut novel, "Give them Lala", Lala Kent shares how her alter ego became a household name, and why fans who once loved to hate her, grew to somewhat just love her.
As far as celebrity memoirs go, I regarded it as such. I assumed it to be a light-hearted summer read perfect for super fans who want an inside look into how the sausage is made. While Lala does give BTS moments of filming Pump Rules, I was pleasantly surprised with how raw and real it was. It wasn't just a collection of surface-level filler to make a quick buck. Instead, it detailed Lala's innermost insecurities, struggles and fears of a normal girl from Utah who happened into a life that most people dream of. 
So, instead of just mentioning the shocking truth bombs Lala drops (there are quite a few moments), I'm going to share the lessons I learned from Give them Lala. 
The Review
It's okay to be a ho
Seemingly, one of the most Lala pieces of advice. While this might not be best practice for everyone, myself included, I was intrigued. Getting in touch with her sexuality helped Lala get out of the hamster wheel of toxic relationships. Taking control of her bodily autonomy and refusing to relinquish all power to her partner served her well. And hey, if having a  "ho door" helps you, so be it. 
What's meant to happen will happen, one way or another
Did you know Lala began working at SUR long before she was "giving us Lala" on Vanderpump Rules? Lala quit on her third shift, but it wasn't until LVP saw Lala working the room one night as a guest that she offered her the hostess job! And in true witches of WeHo form, the famous trio wanted nothing to do with Lala, which only made her attitude and personality shine brighter.
Bullies might land you your dream job in a new city
Throughout Lala's academic career, she recalls being bullied for most of it. She claims that the harsh treatment was never warranted but she was consistently the target. Until she changed the narrative that is. Because of how close Utah is to LA, Lala's mother often drove her there to escape her harsh reality. 
Maybe psychics work?
Believe it or not, a psychic predicted Lala would have two children by way of adoption or otherwise, and 1 child biologically. Weird.
Don't put your heart into a box 
In a way, Give them Lala served as a little black book. Throughout the read, Lala shares intimate details of her colorful dating life and all the surprises along the way. When Lala met Hollywood Producer, Randall Emmett, (now fiancé), he couldn't have been more opposite than her typical "type." But Lala's typical type caused her to question her self-worth, integrity, and everything in between.  Rand made her feel secure in a way she was never used to. (She took a bath in his hotel room the first night). Sometimes the same old, same old, doesn't serve you, and branching out does. 
Those who turn down Chanel bags, are probably not getting offered a lot of Chanel bags 
Self explanatory, really. 
Reality TV exposes you to the realities of yourself
A big part of Lala's personality on the show was tethered to her drinking. In her novel, LaLa details that her alcoholism came to fruition due to her joining the cast. In no way is she blaming Pump Rules for drinking, but it highlighted a disease that was always there, just begging for an excuse to be unleashed. 
It's okay to have a persona if it helps you become confident 
It's the title of her debut novel and a persona that catapulted into an empire —Give Them Lala. Similarly to Beyoncé having Sasha Fierce, Lauren used Lala to channel the most confident and carefree version of herself. It's okay to have that fiery personality but don't lose sight of who you are along the way. 
Final thoughts
There were many nuggets of wisdom sprinkled throughout the more racy accounts that Lala shares with her readers. Trigger warning: Give Them Lala topics range from: pregnancy termination, alcoholism, coping with the sudden loss of losing a parent, etc. 
If you're a Bravo fan, reality tv fan, or just a fan of learning about people, I think this is a great addition to your summer reading list! 
What other reality tv books would you like me to review? Leave a comment! 
---