Kim Kardashian And Kris Jenner Think Kanye West 'Crossed A Line'
.....and that was BEFORE his manic Twitter rant.
Ashley Hoover Baker July 21, 2020 4:05pm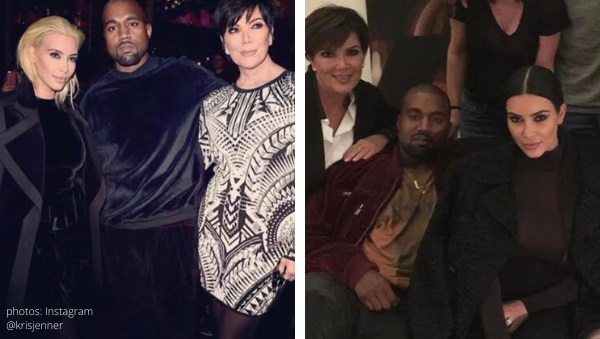 Good luck Keeping Up With The Kardashians these days, as Kim Kardashian's husband, Kanye West, can't stay out of the news. Most recently, the rapper/potential Presidential candidate went on a Twitter rant (the evening of July 20th) sparking further concerns regarding his mental health.
The tweets:
Kanye may have deleted his trouble some tweets, but screenshots will live on forever. Make sure to scroll to read all of the posts.
This started before the now-infamous Twitter rant:
According to a source from PEOPLE, Kim "has been trying to get Kanye help for weeks."
"But what do you do when a person doesn't want help?" the source told PEOPLE, noting that Kanye has been staying at the family's compound in Wyoming, which is consistent with the content of some of his tweets.
"Kanye is in Cody [WY] because he doesn't want help. If he wanted help, he would come back to L.A."
E! News reported, "She [Kim] has been trying for weeks and it's gone nowhere and he has ignored her. It's very upsetting that he hasn't taken his mental health seriously." The insider continued, "She has told him he must come back to Los Angeles and get help and he still isn't listening."
In case you missed it:
At 'Ye's first campaign rally since announcing his run for president, he shared details of a private conversation that he had with his wife while she was pregnant with their first child, North.
"We talked about her not having this child. She had the pills in her hand," he recalled. "You know, these pills, you take it and it's a wrap, the baby's gone."
Now, Kris Jenner is involved:
On Monday evening, Kanye added to his already questionable behavior when he publicly called out his mother-in-law, Kris Jenner. The Yeezy designer posted a screenshot of a text he sent the infamous mom-ager in the midst of his Twitter tirade.  "This Ye. You ready to talk now. Or are [you] still avoiding my calls."
"Kardashians and people close to Kanye are definitely concerned" about his recent actions, according to a source from US Weekly. The Kardashians nor Jenners have yet to publicly speak out.
Want to stay up-to-date on all things from the Kardashian/West/Jenner family?
Check out the Kar Dishin It podcast for weekly recaps of your favorite shows from the family as well as their latest news and gossip. Here is their most recent episode.
Do you think Kim and Kanye will make it through this most recent debacle? Let us know in the comments!
---