Are Kim Kardashian And Usher Dating?
Kim went to Usher's Las Vegas residency two weeks in a row and spent time together at the Met Gala.
Ashley Hoover Baker May 2, 2023 7:58am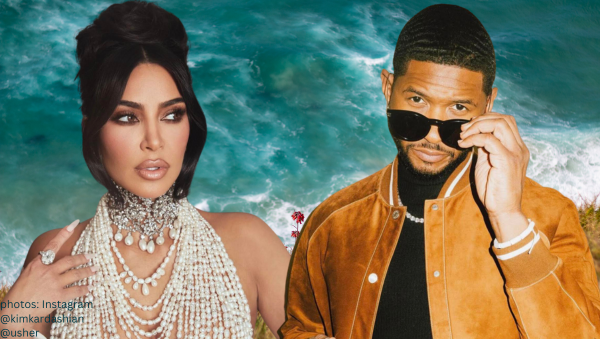 In a society where celebrity dating rumors begin simply by being photographed publically, I truly believe Usher and Kim Kardashian are an item … and here are my reasons why.
1. Kim attended Usher's Las Vegas residency two weekends in a row
The Keeping Up With the Kardashians alum first enjoyed the My Way show with her hairstylist, Chris Appleton, and his now-husband, Lukas Gage, last weekend when she officiated their wedding at Las Vegas's Little White Chapel.
The Kardashians star was serenaded by Usher – who fed Kim chocolate covered strawberries during his steamy set.
The following weekend, Kim was joined by her sister, Khloé Kardashian, and their friend Kimora Lee Simmons at Usher's popular concert. Though Kimora was the one singled out for a serenade by the U Got It Bad crooner, I believe that was just for optics.
*Never forget, Kimora was featured in Usher's music video for the banger, Nice and Slow, so this was a good way to conceal anything going on between the R&B icon and Kim.*
2. Kim and Usher hung out at the 2023 Met Gala
Kimsher (a working portmanteau) was spotted smiling together at the 2023 Met Gala in a photo with Kim's ex, Pete Davidson.
While everyone is getting distracted by Kim and Pete's reunion, I feel this was a strategic move for the potential couple.
Kim was seen with her daughter, North West, before the gala while Usher attended with British/Jamaican designer Bianca Saunders who dressed Usher for the event.
My guess is that North and Bianca came as guests to distract from Kusher (another working portmanteau).
Everyone is talking about Kim and Pete reuniting, but can we talk about Kim and (my imaginary boyfriend) Usher?!?! She went to his Vegas residency twice in two weeks … just sayin'. pic.twitter.com/g5riQpkzFo

— OnThisDayENT (@OnThisDayENT) May 2, 2023
Do you think there is something going on between Kim and Usher? Sound off in the comment section.
---