It Appears Kim Kardashian Changed Her Phone Number And Didn't Tell Kanye West
Kanye posted a screenshot Instagram that included the message, "Send me Kim's number."
Ashley Hoover Baker February 6, 2022 12:14pm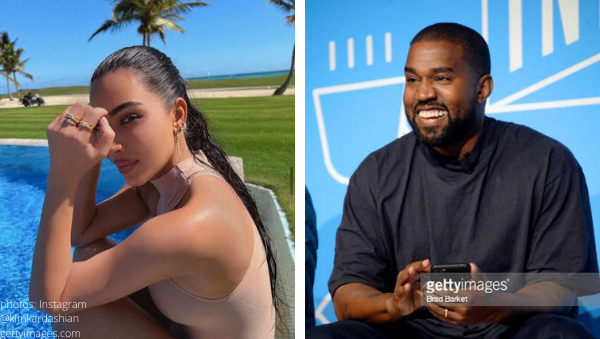 Another day, another layer of messiness between exes Kim Kardashian and Kanye West.
Keeping Up With Kanye's Instagram page:
The rapper posted a screenshot of him requesting his estranged wife's phone number "Send me Kim's number" to the 'gram.
Kanye captioned the post, "YESTERDAY KIM ACCUSED ME OF PUTTING A HIT OUT ON HER SO LET ME GET THIS STRAIGHT I BEG TO GO TO MY DAUGHTERS PARTY AND IM ACCUSED OF BEING ON DRUGS THEN I GO PLAY WITH MY SON AND I TAKE MY AKIRA GRAPHIC NOVELS AND IM ACCUSED OF STEALING NOW IM BEING ACCUSED OF PUTTING A HIT ON HER THESE IDEAS CAN ACTUALLY GET SOMEONE LOCKED UP THEY PLAY LIKE THAT WITH BLACK MENS LIVES WEATHER ITS GETTING THEM FREE OR GETTING THEM LOCKED UP IM NOT PLAYING ABOUT MY BLACK CHILDREN ANYMORE."
An hour prior:
Kanye took to IG to share a screenshot between him and one of Kim's cousins with the following caption.
"THIS IS AN EXAMPLE OF KIM'S COUSIN AGREEING WITH ME ABOUT TIK TOK THEN PROCEEDING TO ASK ME FOR SOME YEEZYS AFTERWARDS HER OTHER COUSIN KARA CALLED ME SAYING SHE AGREED WITH ME THEN SAID SHE WOULD SPEAK OUT PUBLICLY WHICH SHE NEVER DID THEN SHE SUGGESTED I TAKE MEDICATION MY DAD DIDNT HAVE MONEY OR A PIBLIC [sic] VOICE WHEN MY MOM DESTROYED ME AND HIS RELATIONSHIP I DO THIS IS FOR EVERY PARENT ON EITHER SIDE WHO'S KIDS FUTURES ARE BEING ONE SIDEDLY CONTROLLED I DONT EVEN HAVE THE RIGHT TO GET ANGRY AS A FATHER WITHOUT BEING CALLED ERATIC [sic] I GAVE THAT FAMILY THE CULTURE IF THEY AS A WHOLE UNIT KEEP PLAYING GAMES WITH ME I WILL TAKE THAT CULTURE BACK A FATHER SHOULD NEVER HAVE TO BEG FOR THE LOCATION OF THEIR CHILDREN"
Are you Keeping Up With Kanye on IG? #KanyeWest #KimKardashian pic.twitter.com/Oz44bVdfne

— OnThisDayENT (@OnThisDayENT) February 6, 2022
But can someone enlighten me on the 'hit' put on Kim that I missed? #KimKardashian #KanyeWest pic.twitter.com/FnVzaVWcQI

— OnThisDayENT (@OnThisDayENT) February 6, 2022
FYI:
Kanye has only 20 posts on his IG page, three of which were uploaded in the last 24 hours.
The first of this flood of posts included age requirements for his eight-year-old daughter North West's social media platform of choice, TikTok.
View this post on Instagram
TMZ reported, "North doesn't have her own TikTok account, nor does she have the app on her own phone any longer. Instead, we're told North can only access TikTok through a joint account on Kim's phone — and only uses it in her mother's presence."
An example of @kimandnorth's content…
Check out Zachary Reality to stay up-to-date on all things reality tv!
Do you agree with Kim or Kanye regarding North's social media presence? Drop names in the comments.
---