RHONJ's Joe 'Call Me Daddy' Gorga Defends His Behavior In Screaming Match With Tenant Over Unpaid Rent
Joe claims he was unaffected by not receiving the tenant's rent and that he is upset that the man is trying to "beat the system."
Ashley Hoover Baker June 15, 2022 9:30am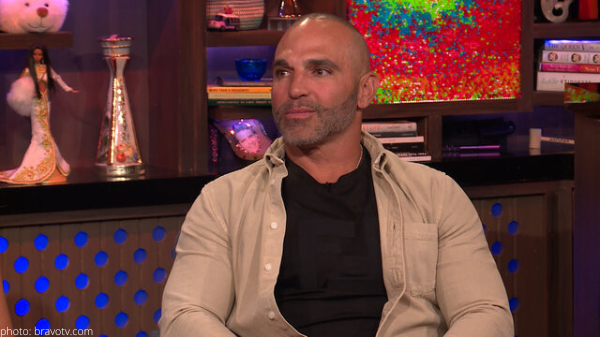 Updated post 6/15/2022 @9:30
Can't stop. Won't stop:
After Joe 'Call Me Daddy' Gorga went viral for berating a tenant of an apartment building he owns, the Bravolebrity is defending his behavior.
"I wanted him to feel exactly the way he made me feel."
The issue:
What p*ssed Melissa Gorga's hubby off the most "was he gave the guy an opportunity to better himself by giving him a place to live … and feels like he took advantage of the situation," but instead, Joe says he is trying to "beat the system," according to reports from TMZ.
Although Joe claims he was unaffected by this person not paying his rent, he is concerned the tenant's negligence could hurt others … "and [Joe] wanted to teach the guy a lesson."
---
Original post 6/13/2022 @11:24
Jersey showdown:
Real Housewives of New Jersey star Joe Gorga lost his cool in a verbal altercation with a renter from an NJ apartment building he owns.
TMZ obtained a video of Landlord Joe engaging with an unknown tenant in a rent dispute.
The video begins with Teresa Giudice's little brother reacting to a tenant who yelled for Joe to grab a "sledgehammer"…which must have been a reference to a prior conversation or what was said before the camera recorded. 
The feud:
Screaming that he gave the tenant a place to live for "four f*cking years," Joe called the man a "f*cking loser" for not paying his own rent.
The tenant made it clear that the "state paid" for his rent, in reference to government covid assistance; however, that doesn't seem to be enough for Joe.
Joe implored the tenant to "Call me f*cking daddy, motherf*cker, because I've been supporting you for four and a half years."
Typical behavior:
The tenant made a comment alluding that this is not the first time Joe has made a scene like this.
After referring to the "sledgehammer" again, the tenant yelled for Joe to "keep coming to do this to me. This is what you do."
The father of 3 told the "f*cking bum" to "stop selling drugs" and began opening the man's car door wider, prompting the tenant to threaten to call law enforcement.
Referring to the accusation he sold drugs, the tenant joked that a drug dealer wouldn't drive a car that was "falling apart."
TMZ included that the tenant was a "restaurant manager who lost his job during COVID, and is still trying to get back on his feet."
The legal stuff:
Joe's attorney, W. Peter Ragan, says "Joe collected nearly $40,000 in COVID rental assistance from NJ, he claims the guy hasn't paid rent on his own since October 2018 and still owes Joe the nearly $50K sum."
Ragan noted they've filed eviction papers since this war of words.
Do you think the tenant will press charges for harassment? Sound off in the comments.
---