Faith Stowers Boasts About "Amazing New Attorney" After Creating A Go Fund Me Against Stassi Schroeder
"Just when they THINK they got away ... 👨🏻‍💼👩🏼‍⚖️."
Staff August 7, 2023 7:39am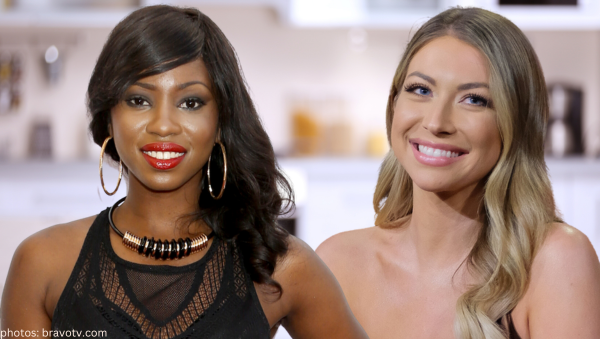 Former Vanderpump Rules cast member, Faith Stowers, took to her Instagram story to update her followers on an upcoming legal battle she intends to ignite … seemingly against Stassi Schroeder.
Never forget Stassi was fired from VPR for racially profiling Faith. Since her termination from The Bravosphere, she penned two New York Times best-selling novels and hosts two popular podcasts.
Faith's since-deleted IG story:
"Just got off the phone with my amazing new attorney," began the former SURver.
"God really looks out for me," continued Faith before she left a cryptic closing message and pair of ambiguous emojis.
"Just when they THINK they got away … 👨🏻‍💼👩🏼‍⚖️."
The emojis:
Faith's choice of emojis was analyzed in the comment section.
The emojis are giving Stassi and Beau. I read comments about Faith's go fund me from legal experts saying it would be kind of impossible to stop Stassi from profiting off her own book. Like this isn't the OJ Simpson trial! (Ron Goldman fam succeeded in doing this with OJ's (If) I Did It Book). Like sounds like Faith found some scumbag lawyer who is cool with taking her money even tho she won't get anything out of it.

The emojis 😂😂😂😂 get 'em Faith

I looks like the blond is a judge. Maybe the man is her attorney?

Jax and Stassi.

Sandoval has the mustache
See for yourself:
Shout out to Insta's @GlorifiedGossipGirl for the screenshot!
View this post on Instagram
ICYMI:
In June 2023, Faith set up a Go Fund Me to finance suing Stassi.
"I'm seeking assistance with my legal team to get this book removed and all royalties/funds collected from this book be given to charity or assisting a family of choice. Thank you for your support always. And thank you all for standing up against bullies and racial division."
At this moment in time, the fundraiser has earned $1,891 of its $20,000 goal.
Do you think Faith's use of emojis was intentional? Drop names of those you think they represent in the comments.
---