Erika Jayne Girardi Blames "Not Great Behavior" On The Booze And Pills She Took While Filming RHOBH Season 12
"I didn't know that it would make you this drunk and it did."
Ashley Hoover Baker May 11, 2022 11:20am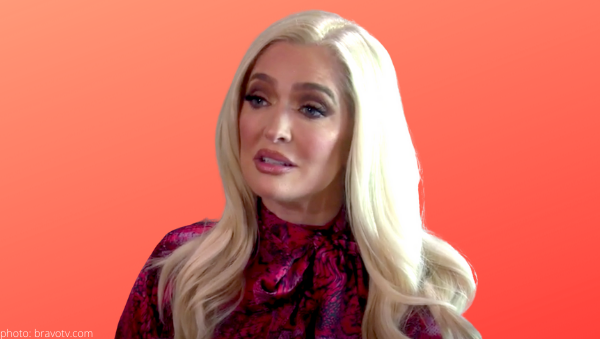 Real Housewives of Beverly Hills star, Erika 'Jayne' Girardi admitted to mixing alcohol and antidepressants while filming the 12th season of the hit Bravo show, explaining why her behavior was "not great."
After reinforcing how "open and honest" she's been, *cough cough* snow in Pasadena *cough cough,* she claimed NOT to know that mixing alcohol with pills "would make you this drunk and it did."
Time to move on:
Before the premiere episode even aired, Erika made it clear to US Weekly that she doesn't want it to appear she has an issue with substance abuse.
"I do not have a problem and lesson learned and we go on."
Whatever happened on camera must be a 'Pretty Mess' as Erika is working overtime to get ahead of this story.
"I mean, are you gonna see a moment that, you know, you will probably be like, 'Is that Erika?' And the answer is yeah. I mean, that was me."
EJ understands the assignment:
Love her or hate her, this is why Erika Jayne Girardi makes great television…
The controversial Real Housewife created an opportunity to throw others under the proverbial bus in an attempt to deflect from her own behavior.
"And let's be honest, you know, you're sitting at these parties and some of these women are kind of boring."
"So you have a drink [and then] you have another drink. And then you're like, 'Where am I?' So, you know, it's not that I was drinking a lot. It's just that I was drinking while being medicated."
So if the other women weren't "boring" you wouldn't have consumed so much alcohol?!?!
Got it.
No regrets:
Though Erika claims she doesn't feel "embarrassed" by her RHOBH season 12 behavior explaining, "You know, some of my behavior was not great, but it's also very real."
"It's part of the human experience."
She elaborated, "You can't go through what I have gone through the previous season and not feel something and not feel great and not want to have a good time. I wanted to have some fun. I wanted to not feel so heavy, and that's what I did."
The How Many F*cks singer maintained, "I don't regret much in life."
It's not me, it's you:
"I think sometimes that the way I deliver things sometimes [is] misunderstood. I tried very hard for a long time to be as calm [as possible] and take the high road. And when you are consistently not being heard or just whatever, then … I just start raising my voice."
"I think sometimes people misunderstand that."
"It's also part of life, and I wouldn't be the first person that this happened to and won't be the last."
Watch EJ get Pretty Messy for yourself:

Do you think Erika is trying to get ahead of the comment she made about not caring about the victims of her estranged husband's alleged crimes, or did something even worse go down? Drop your prediction off below.
---