Drake Calls Out Love Island USA's Bennett Sipes
Even Bennett's ex/Influencer, Sommer Ray, said Bennett "Seemed fine after his visible injuries healed."
Ashley Hoover Baker October 16, 2020 4:15pm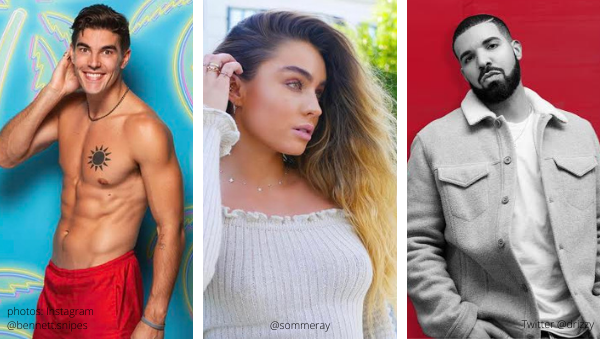 Drake may have Started From The Bottom, but it is not in God's Plan to allow a Love Island contestant to unjustly sue him.
In case you missed it:
Love Island USA season 2's Bennett Sipes was caught on surveillance cameras getting beat up over two years ago.
According to reports from TMZ, Bennett "sued Drake, OBJ and Kourtney Kardashian's ex, Younes Bendjima, back in January 2019 claiming Younes attacked him along with members of Drake and OBJ's entourage. Sipes' ex [Sommer Ray Beaty] said in her declaration both Drake and OBJ were standing at the back of the group and "appeared to simply be observing what was happening and following the group out of curiosity. Neither of them seemed to be instructing others or encouraging others to do anything at all."
The 'Islander' "claimed he suffered a concussion, back injury, physical injury and depression after a March 2018 fight at Delilah Nightclub with Drake, Odell Beckham and others. Sipes filed a lawsuit over the fight."
Delilah was named in Bennett's suit, According to complex.com, for "their lack of a security presence outside their venue."
Bennett is seeking $250,000 to cover "past and future pain and suffering, medical bills, lost future earnings, past and future emotional distress and punitive damages."
Watch the brawl for yourself:
Drake called out Bennett for Doing It Wrong:
Are you tired of my Drake puns yet?! I'll Laugh Now Cry Later…
Anyway, the rapper's attorneys filed documents revealing Bennett recently appeared on the hit CBS reality dating show, as well as attended music festivals, even performed backflips off rope swings while vacationing in Mexico since the 2018 fight looking "anything but depressed."
Drake's team is asking a judge to throw out Bennett's lawsuit.
Sommer Ray's statement:
Regarding the physical altercation, Bennett alleged the rapper made a 'throat slash' gesture moving his hand across his throat, triggering the entourage to badly beat Bennett. In a statement made by Sommer Ray, on the other hand, claimed she did not see the alleged 'throat slash' gesture nor Drake encourage any kind of violence at all.
Sommer Ray didn't stop there…
After the fight, Bennett's ex girlfriend said he started working with her – even carrying her camera equipment without difficulty, noting he seemed fine once the visible injuries healed.

The love birds/jet setters traveled together to around North America, Western Europe and Japan, and even attended Coachella, Stagecoach and Rolling Loud Festival after the fight.
This doesn't help Bennett's case…
Drake's team claimed Bennett deleted a bunch of text messages between him and Sommer Ray, which is really dumb considering a lawsuit is pending.

Naturally, Drake's legal team believes the deleted messages may have given additional information regarding Bennett's alleged injuries or the fight itself.
Do you miss Love Island as much as I do?
I interviewed the lovely Lauren Coogan from LI USA for the On This Day Entertainment podcast. Listen to the British beauty dish on life in The Villa, the other Islanders and what we didn't see on camera here!
Do you think Drake will get his way and have the lawsuit against him thrown out? Drop your predictions off in the comments!
---