RHONJ Alum Danielle Staub Goes After Margaret Josephs
"I don't like that she's lying in her book either and trying to make it a 'Me Too' movement thing."
Ashley Hoover Baker April 29, 2021 11:09am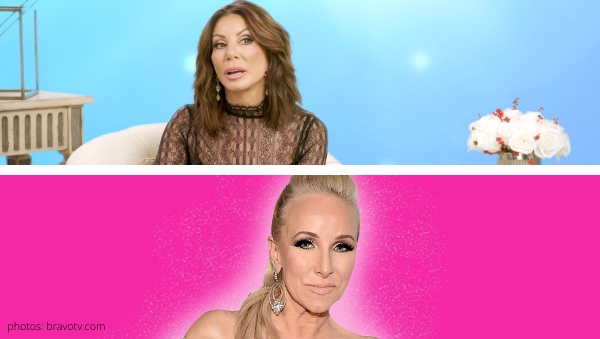 Real Housewives of New Jersey alum, Danielle Staub, joined S'More Date creator Adam Cohen Aslatei (ACA) on episode 87 of S'More Live on Instagram and came hard for her former co-star/current Real Housewife, Margaret Josephs.
The reason Danielle left RHONJ (again):
"I did have a nervous breakdown. Period."
The former 'friend of' the main cast made it abundantly clear that there was one cast member in particular that intentionally triggered her childhood trauma.
"It was Margaret Josephs driving a hammer into something and regurgitating something that I had already recovered from. It's hard enough to not be supported by your fellow cast or 'fake friends,' but the worst part was them making me relive moments from my past and my childhood by using the name 'Beverly' to trigger" memories of sexual abuse.
Danielle didn't stop there:
Margaret "came after my marriage. She came after my life. She even stole my furniture. She said she had an eye on it the whole time. She took things from me that are just unnecessary just so she could have a story line because she knew that I would pick up on it- or someone would pick up on it and then she tells lies about it being staged furniture. No, that furniture, you can visibly see it, in my original home."
"Those are triggers and it doesn't just happen on the show."
"Off camera were the worst times for me because that's when they would come for me the hardest and do things preparing for a scene to come out when we'd film together the following week or the next time we'd film together. They'd continue it. So, that's that."
Danielle is crystal clear about her feelings toward Margaret:
The author of The Naked Truth: The Real Story Behind the Real Housewife of New Jersey–In Her Own Words said that MJ needs crystal to remove her of negativity. "She's the most negative person I've ever met. Like, she goes after people to remain relevant."
The former All My Children actress continued, "I don't like that she's lying in her book either and trying to make it a 'Me Too' movement thing."
Prepare to clutch your pearls….
View this post on Instagram
The infamous hair pulling incident:
Without a flinch, Danielle answered if she regretted pulling Margaret's hair.
"No."
Savage.
Watch the full interview for yourself:
View this post on Instagram
GIMME S'MORE:
Check out S'More Date on Instagram for weekly celebrity interviews.
Also, download the S'More Date app! Like the show Love Is Blind, S'More Date, builds meaningful connections between people before they see one another.
Do you think Danielle will return (again) to RHONJ? Drop your opinion off in the comments!
---