Bachelor Nation's Christian Estrada Dishes On Jordan Kimball, His Love Life, And More!
Christian even talked about the rumor of him hooking up with Frida Sofia's mom!
Ashley Hoover Baker December 31, 2020 8:21pm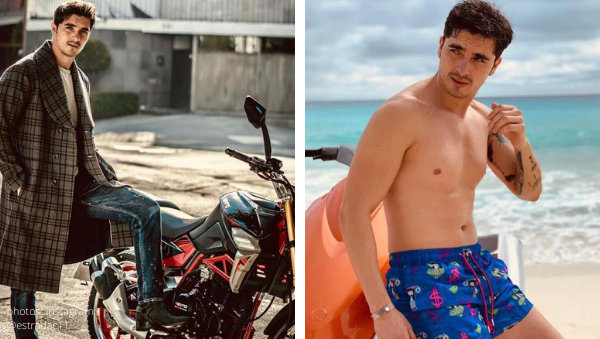 The Bachelorette/Bachelor in Paradise babe, Christian Estrada, joined S'More Date creator Adam Cohen Aslatei (ACA) on episode 58 of S'More Live on Instagram to spill the tea on all things from Bachelor Nation, to dating and beyond!
Christian's dating history:
The mastermind behind the Love Is Blind dating app kicked off the interview by asking Christian about his wildest dating experience.
The model/actor spilled the tea on the time his ex-girlfriend, Frida Sofía, "made up this whole story" resulting in her enormous fan base turning on the athlete. In fact, Christian detailed how a Daily Mail article set the Mexican  and American press into a frenzy.
Don't know the story? Well, Frida – who Christian described as the 'Mexican Madonna'- claimed that Christian had sex with her mom. Yes you read that correctly. In case you want more dirty deets…
Christian's Bachelorette end game:
After Christian assured ACA that his interntion to join the cast of The Bachelorette was to find love, he jumped head first into the drama.
Christian's biggest competition:
"Clay [Harbor] walked in there, a professional football player. You got Jordan [Kimball] in there- another model walking in there. Blake [Horstmann]– great guy. So, I feel like everyone was competition. We were all looking for love. Everyone."
Christian's 'biggest beef':
The fashionista was quick to respond. "I think we all know it's Jordan."
Interestingly, the former semi-professional soccer player explained that nothing really happened for the two not to get along, the guys simply didn't make an effort to get to know one another.
Christian agreed with ACA's summation that he and Jordan had an "icy" relationship before reminding @smoredate followers Christian and Jordan's fight on the beach during Bachelor In Paradise.
Fortunately, there is no more trouble in paradise (sorry for the lame pun) for the guys as they have cleared the air.
Throwing shade:
Again, Christian didn't hold back. He had no qualms naming names regarding the most who he felt were the most under-whelming Bachelor and Bachelorette. Without missing a beat, he shared that he found Blake and JoJo Fletcher least impressive.
Oh, the shade.
Is Christian currently dating?
As far as the Mexican-born athlete's relationship status, the hunk proudly exclaimed he is "TAKEN" before gushing, "She's great. She's awesome. We're actually living together."
If you're curious (like me) what as to what makes his current relationship different than the rest, it is their shared culture. Eventhough Christian didn't move to America until the age of 27, he didn't date a Mexican woman until he left Mexico.
View this post on Instagram
Also in the interview, Adam played 'Shag, Marry, Remove' and 'Sip and Tell' with Christian- who continued to mention it all! In fact, Christian had to cut himself off!!!
Watch the interview for yourself:
View this post on Instagram
WANT S'MORE?!
If you're looking for love in 2021, look no further…
Check out the Love is Blind experience for yourself and get the S'More app here!
Were you surprised with any of the tea Christian spilled? Drop highlights off in the comments!
---