Bethenny Frankel Joked She's "Being Canceled" After Carole Radziwill's "White Savior" Remark
"Thoughts and prayers" deadpanned Bethenny. 
Staff September 18, 2023 10:41am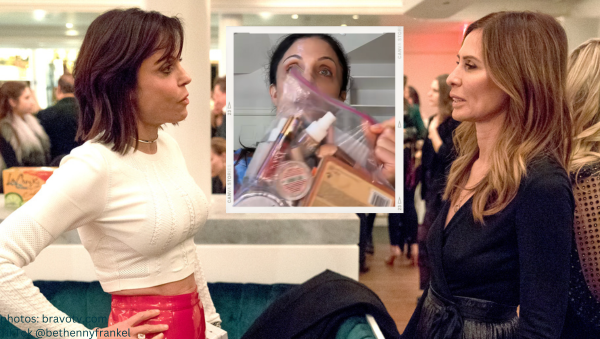 Bethenny Frankel took to her TikTok page to clap back at her former BFF/Real Housewives of New York co-star, Carole Radziwill.
After the BStrong founder went viral for trying to regift open-box makeup to TJ Maxx employees, Carole declared Bethenny has "white savior complex."
"I'm in a lot of trouble and I think I'm being canceled," began Bethenny. "I did something very wrong."
"It's been going around the worldwide internet that I'm really cheap," announced the Reality Reckoning ringleader.
After detailing how generous makeup brands are to gift her products "to try, to test," she noted that she shares extras with her staff and assistant.
Bethenny also keeps "random acts of kindness" kits she's curated for strangers. "I always have bags in my car … Each bag will have a foundation, a lip, a powder, etc."
This is where the story gets murky.
B claims she "was at TJ Maxx and the women were complimenting some of the things I bought" even claiming a staff member told her, "I wanna get that. I wish I could afford it."
Social media users shared their frustration with Bethenny as she insinuated Consuela – the TJ Maxx employee who B recorded without her consent – "can't afford" the fancy makeup that B buys.
That's when 'writer girl,' Carole Radziwill, entered that chat.
Carole took to the comments of TikTok's @LoveAndyC joking, "Who sent this to me? Lol."
"I mean, stop this nonsense."
"So much to unpack, but I'm not getting paid to do this any longer. But here…one 'word': #whitesaviorcomplex."
Bethenny slammed Carole using her own words against her.
"And that I'm – what is it called – white savior complex."
"People like to use these really big woke words and terms like 'narrative' and 'gaslighting' just to act like they're really smart."
"So, I may have white savior complex because I brought perfectly good unused but open makeup to people that I don't think would be able to buy this level of makeup on their own."
"So I guess I'm being canceled. What shall we all do?"
"Thoughts and prayers" deadpanned Bethenny.
Where do you stand on TJ Maxx Makeup-Gate? Sound off in the comment section.
---