The Bachelor's Greer Blitzer Apologized For Defending A Student Who Wore Blackface For Halloween
"Time and age do not excuse my actions, but this is not a reflection of who I am today."
Ashley Hoover Baker January 25, 2023 10:24am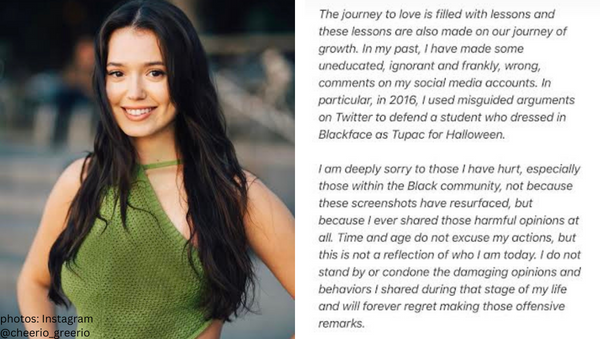 The early frontrunner for season 27 of
The Bachelor
,
Greer Blitzer
, took to her Instagram story to apologize for tweets defending a blackface costume.
After receiving Zach Shallcross's first impression rose, internet sleuths found posts from 2016 of the brunette beauty defending a student's choice to wear blackface as part of a Tupac Shakur costume.
It didn't take long for Greer to issue a statement …
The apology:
"The journey to love is filled with lessons and these lessons are also made on our journey of growth. In my past, I have made some uneducated, ignorant and frankly, wrong, comments on my social media accounts. In particular, in 2016, I used misguided arguments on Twitter to defend a student who dressed in Blackface as Tupac for Halloween."
"I am deeply sorry to those I have hurt, especially those within the Black community, not because these screenshots have resurfaced, but because I ever shared those harmful opinions at all. Time and age do not excuse my actions, but this is not a reflection of who I am today. I do not stand by or condone the damaging opinions and behaviors I shared during that stage of my life and will forever regret making those offensive remarks."
See for yourself:
Insta stories expire after 24 hours, but screenshots live forever.
Greer from #TheBachelor defended black face 🤦🏻‍♀️ pic.twitter.com/EFSzKLR5SN
— OnThisDayENT (@OnThisDayENT) January 25, 2023
Does this affect your opinion of Greer? Sound off below. 
---