Andy Cohen "Almost Walked Off" RHONJ Reunion Set Due To Teresa Giudice And Melissa Gorga's Fighting
"The gloves are off. I've never seen anything like it."
Ashley Hoover Baker April 25, 2023 9:21am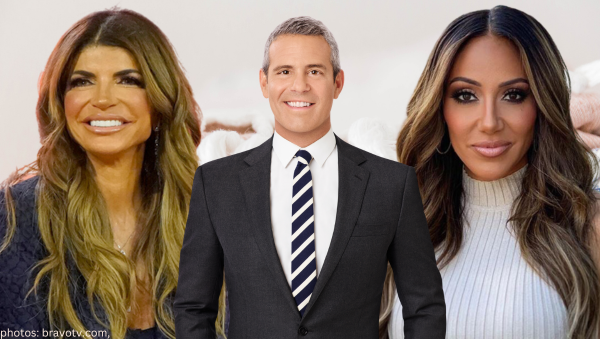 Andy Cohen admits he "almost walked" out of the reunion as a result of the non-stop feuding between Teresa Giudice and Melissa Gorga.
The Watch What Happens Live host teased Bravoholics with info regarding the upcoming RHONJ season 13 reunion. "There were a ton of new allegations being made. There was a lot of new material to get into which was good so we didn't spend a ton of time rehashing the past."
"We leaned into a lot of the new stuff."
Although promising new deets came out of the reunion, the drama between the estranged sister-in-laws almost wore Andy down. "The level of – I won't even say vitriol, I will just say hate – between Teresa and Melissa … the gloves are off. I've never seen anything like it."
"The way the two of them were going back and forth, it was that thing of neither [wanting] to have the last word in any petty fight," continued the four-time New York Times best selling author.
"No one hates it more than me cuz I'm the one trying to get control of the room." The father of two added, "I almost walked off at one point and by the time I was going to I was so annoyed because I did have a late dinner plan with Bruce [Bozzi] and I wanted to make the dinner."
After a long day at the office, Andy made it to dinner.
"Bruce wound up waiting for me and we had like a 9:30 dinner at Cafe Cluny. I guzzled two tequilas after that reunion. Guzzled. I woke up at 3:30 in the morning in my head … that's how long it took me then to process all of the shit that I had heard going on."
View this post on Instagram
What do you hope gets resolved at the RHONJ13 reunion? Sound off in the comment section.
---