Teen Mom's Jenelle Evans Responds To Accusations of Stealing Pregnant Pitbull
"I did not steal this dog."
Ashley Hoover Baker December 8, 2020 9:20am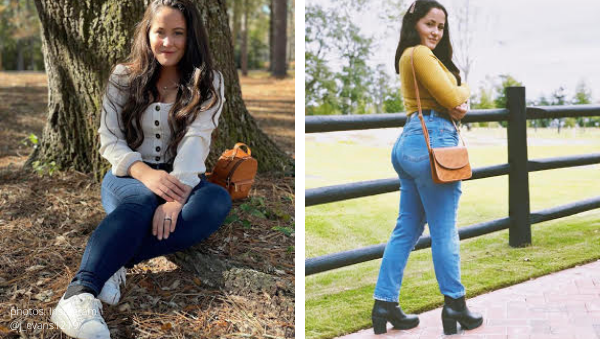 Is the pup-arazzi after former Teen Mom star Jenelle Evans? According to 50% of the controversial MTV couple, the answer is yes!
(…and I apologize in advance for all of the lame dog puns, but I couldn't help myself!)
What is this wacky doggone woman up to now?
According to E! Online, Jenelle "took to social media to reveal she found a pregnant pitbull in her neighborhood. Although Jenelle initially asked for help finding the dog's owner, it seems some followers may have tried to get the former MTV star in trouble."
Jenelle's words:
The mother of two wrote on Facebook, "Wow, now it turns into 'call the cops on Jenelle for a stray pitbull having puppie [sic]. I did not breed this dog. I did not steal this dog. I gave this dog a home and have been feeding her. Whoever left this dog chained outside being pregnant in 35 degree weather is beyond me but luckily she found us and we gave her a warm spot to sleep since then. Don't leave your animals out in the freezing weather."
Jenelle's story changed:
Let's start with a credible source….
According to a Sampson County Sheriff's Office staffer, "No calls were made in regards to the 28-year-old."
Back to Jenelle's side of the story- David Eason's wife claimed pawlice were not involved when she told E! News exclusively, "No cops have been to my house and I doubt they will come if they are called."
She elaborated, "The police are 45 minutes from my house so they aren't coming out here for rumors. They are used to that when it comes to me unfortunately."
Mama dog:
David the Dog Murderer posted a pic of his daughter bonding with the pregnant pittie on his Instagram page.
View this post on Instagram
The puppies:
"The kids love the puppies! We might keep one but going to give them away to close friends of mine for free when they are ready to go."
The full-time victim finished her statement with a ruff diss to skeptics, "I'm only trying to help and the haters tried to start some stuff once I posted she had her puppies."
Why would anyone want Jenelle in the 'dog house' in the first place?
Were you fortunate to miss the Nugget (RIP) saga from 2019? If so, you may not want to dive into this disturbing rabbit hole. However, if my warning made your dark heart more curious, here ya go.
Which of Jenelle's stories do you believe? Drop your shady opinions off in the comments!
---