Teddi Mellencamp Goes Hard On Vicki Gunvalson Regarding The Cancer Scam And January 6th
Am I kinda loving John Mellencamp's daughter right now?!
Ashley Hoover Baker June 23, 2022 11:09am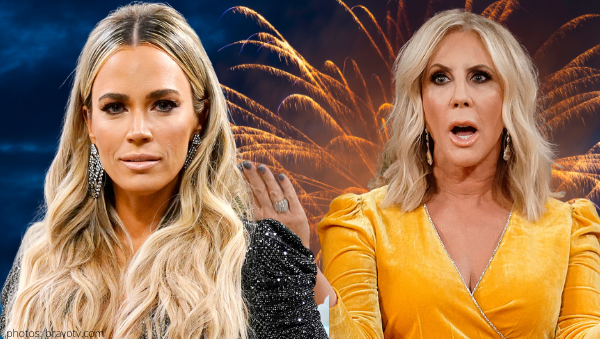 Twitter hosted an epic back-and-forth between two ex-Real Housewives of Bravo TV, Teddi Mellencamp and Vicki Gunvalson and it was M-E-S-S-Y, to say the least.
Where it started:
John Mellencamp's daughter triggered Vicki after low-key calling her out over the infamous cancer scam she was/wasn't (will we ever get the truth?!?!) involved in with ex-boyfriend, Brooks Ayers.
"Any other Bravo fans watching I Love That for You on Showtime with Vanessa Bayer? It's about a girl who scams her way into a job by lying about having cancer. Just feels so familiar," tweeted Teddi.
Awk-ward:
In case you don't typically pay attention to Teddi (relatable AF,) she is currently co-hosting the Two T's In A Pod podcast with Vicki's partner-in-crime, Tamra Judge.
Vicki even tagged Tamra in clap back tweet to the former Real Housewives of Beverly Hills cast member, getting their mutual friend involved while throwing shade at Teddi's limited stint on RHOBH.
"Wow…Low blow! You know nothing about what transpired with my x. This is why you only lasted 3 years… ME…14!"
Classic Vicki.
Teddi went there:
A drop-the-mic moment that *almost* made me a Teddi fan came after Vicki compared their tenures as housewives.
The All In By Teddi scam artist founder asked, "Well if we're talking numbers, could you let us all know where you were on January 6th?" 
imagine getting dragged like this by teddi of all people my god pic.twitter.com/iWlvYjxOZz

— ty (@ghostfacegay) June 23, 2022
Do you think Teddi read Vicki to trash or was accusing The OG of the OC being an insurrectionist (without any proof) too much? Sound off in the comments.
---