Teddi Mellencamp Will Be Fired From RHOBH This Week
"She is boring and stale and does not offer anything to the franchise..."
Ashley Hoover Baker September 21, 2020 8:22am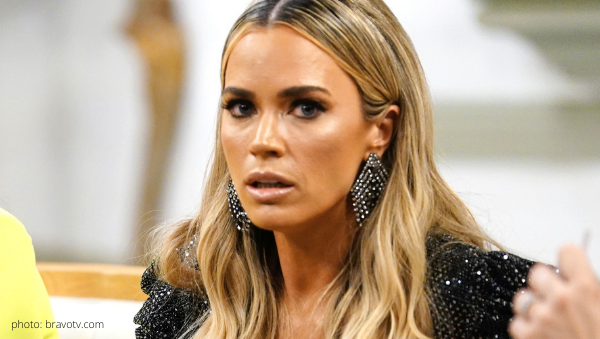 I'm ALL IN for this news!
DailyMail reported that Real Housewives of Beverly Hills' Teddi Mellencamp will be terminated this week. After being featured on seasons 8-10 on Bravo's hit show, John Mellencamp's shadow daughter was deemed 'boring and stale.'
"A production insider has told DailyMail.com: 'Teddi will be advised this week that she will not be picked up for another season.'"
Why has it taken so long?
Like many RHOBH fans, Bravo has not been impressed with Teddi's lackluster performance and story lines thus far. Executives even considered cutting the mom of three last season decided to give her one last chance.
What the suits say about Teddi:
According to the insider from Daily Mail, "Teddi does not offer anything to the franchise with her robotic and staged delivery when interacting with the other cast members."
They didn't stop there! "The issue is, the other cast members don't particularly like her and beyond Kyle [Richards] no one is friends with her."
WAIT! It got worse for Teddi:
This has got to sting.
Daily Mail's insider also dished that "Kyle will most likely dump her, when Bravo does."
What about the All In By Teddi Mellencamp drama?
Teddi's off-camera efforts to be relevant also raised eyebrows.
Teddi's All In weight loss program was under scrutiny after criticisms arose over its restrictive food intake and alleged aggressive nature of the coaches.
Daily Mail's insider added, "The network has been less than impressed with the war she is in with Instagram influencer, Emily Gellis."
In case you missed the drama, here ya go!
Bravoholic reactions to Teddi's impeding termination:
**Total transparency- My intention was to include a mix of reactions to Teddi's termination. I was only able to find celebratory posts, which proves Bravo is making the right choice by letting her go. Literally, I did not one single post declaring Teddi would be missed. There you have it….
OMG! Best news of the day @TeddiMellencamp getting fired from the show!! Now if they will lose @lisarinna and @KyleRichards it would be even better! Bye boring Teddi!! #RHOBH

— Tammy Jo (@tammalou92) September 21, 2020
TEDDI MELLENCAMP FINALLY FIRED FROM RHOBH pic.twitter.com/EESgkeoeYk

— Karen Huger Stan Account (@blairwiIson) September 21, 2020
Instagram goddess, @a_beautiful_snarky_ mess posted, "Wake up to this news… 🙏🏻🙏🏻🙏🏻🙏🏻 Please let this be true… Please 🙏🏻🙏🏻🙏🏻🙏🏻🙏🏻🙏🏻🙏🏻."
Her followers were quick to add, "She thought she was gonna get us with that pink weave 😂🤡💀 #GirlByeee," and "She's been boring and stale since episode one…yet here we are 3 seasons later🙄."
Others added, "They had to give us something for that awful Denise gang up" and "Some good things do come out of 2020!" I appreciated the glass-half-full perspective.
My personal fav comment in the thread: "There is a god and she was bored too." Mic drop.
Need a little more RHOBH in your life?
I don't blame you. Check out a hilarious RHOBH, Real Housewives of New York, and Real Housewives of Potomac breakdown on the Pink Shade podcast!
Do you think that the All In scandal is what pushed execs to make this long-overdue decision? Drop your opinion off in the comments!
---