Fashionistas Tan France And Gigi Hadid Bond Over Parenting While Filming 'Next In Fashion'
Did Tan just low-key shade his Queer Eye castmates?
Ashley Hoover Baker May 22, 2022 3:30pm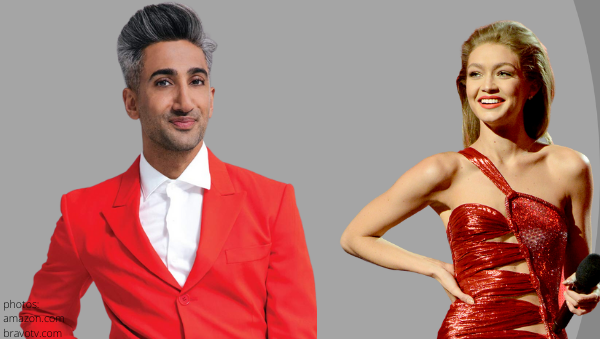 Fashionable friends Tan France and Gigi Hadid bonded over babies while filming season two of Netflix's design competition show, Next in Fashion.
Babies on the brain:
Since Gigi had her baby months before Tan's surrogate gave birth, the former Real Housewives of Beverly Hills daughter was able to help guide the host of the Selling Sunset season 5 reunion with his new role as dad.
Queer Eye's style specialist praised his supermodel sidekick calling her an "amazing mom," according to an interview with Us Weekly.
"I've gotten so many tips from her."
Gigi "was the first person that sent me a care package of all the things that my baby might need. It was so sweet." (Getting major Yolanda Hadid vibes and I'm living for it!)
History:
After Gigi was announced as Alexa Chung's replacement for Next in Fashion season 2, Tan took to his Instagram page to share his origin story with Gigi.
"Who would have thought when we met over Facetime 4 years ago (thanks @evachen212) that we'd be hosting NEXT IN FASHION TOGETHER! You read that right! The secret's out."
"She's one of my closest friends. I love her so much."
Next gen:
Tan told People that he's "so excited" for his son and Gigi's daughter to spend time together while filming the reality competition show.
"They're both part Pakistani, part white, which I think is lovely."
Can you imagine how adorable these two kiddos are going to be growing up?!?! 
Low-key shade?
Ok. I have been known for making something out of nothing a time or two over the years.
Consider yourself warned…
After describing how "really, really fun" it is to film with Gigi, Tan added, "It's probably the best time I've ever had in a show."
Don't tell Antoni, Bobby, Karamo, or Jonathan!!!
Am I stirring up unnecessary drama or was that the subtext? Drop your opinion off in the comments.
---