Steve Lodge Slams RHOC's Vicki Gunvalson For Drunk Dialing Him
Vicki slurred,
Staff July 6, 2023 11:43am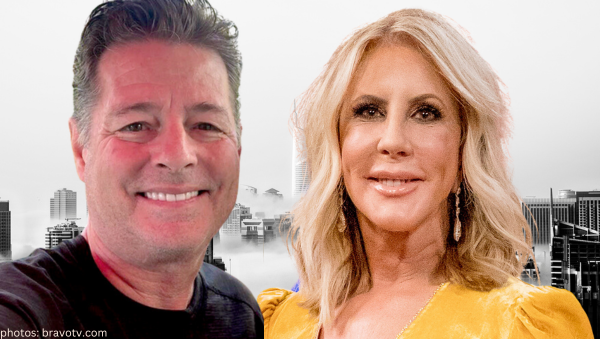 Steve Lodge wants to move on.
Vicki Gunvalson's ex-fiancé claims the Real Housewives of Orange County OG won't stop harassing him … two years after their split.
Steve told The U.S. Sun, "I want to be left alone. Leave my wife and I alone."
He wants Vicki to "get on with her life and stop talking about or trying to contact me and my wife."
There is a recording of the Coto Insurance founder and her 'tres amigas' counterparts drunk-dialing the retired cop and even leaving a voicemail on 5/28/2023 at 12:31 a.m. CST.
Steve alleged Vicki, Tamra Judge, and Shannon Beador were "all drunk and spewing nonsense."
Vicki slurred, "I have a bone to pick with [Steve]. Why were you sleeping next to me while you were sleeping with Janis?"
"And you told her that we were just friends. We weren't friends!"
"You were sleeping next to me," continued Vicki. She added he was "living in my house for free and my condo and doing everything with me."
She recounted a trip she took to Sacramento with Steve. "He was doing it with her while he was sleeping next to me. That means he used me!"
Shannon confiscated the phone and told Steve: "I'm so sad about that" as Vicki screamed in the background. "Super sad. It's okay. That wasn't nice."
She recollected, "I guess we were remembering the time right when I met" my ex-boyfriend, John Janssen.
"It was like early 2019 where you and I, the three of us, had a dinner plan in Newport Beach and we walked into the restaurant and we're like, 'Oh my God, there's Steve sitting at the bar.'"
"And you were like, 'What are you doing here?' Do you remember that dinner? I'm sorry, Steve," babbled the mom of three daughters.
"That wasn't a good day. Okay, I wish you well with the new wife."
@byewighellodrama Y'all 😭😂 this is so funny but the tres amigas gotta leave this man alone lol REAL Housewives of Orange County star Vicki Gunvalson's ex Steve Lodge has demanded the TV personality leave him alone in an exclusive interview with The U.S. Sun. Nearly two years after their breakup, Steve is alleging he has been getting drunk phone calls from his ex Vicki who won't leave him and his wife, Janis Carlson, alone. The 64-year-old retired police officer is speaking out to The U.S. Sun after claims of harassment by his ex-fiancée. He shared: "I want to be left alone. Leave my wife and I alone." Steve added that he won't tolerate harassment to his wife either. "I would hope she would please get on with her life and stop talking about or trying to contact me and my wife," he continued. Credit: Diana Cooper via the US Sun #rhoc #orangecounty #realhousewives #vickigunvalson #tamrajudge #shannonbeador #funnyvideos #celebrity #celebrities #fyp #andycohen ♬ original sound – Bye Wig Hello Drama

Vicki has since denied any claims of "harassment" as she reasoned that a voicemail is "not harassment."
What's your opinion of the 'tres amigas' drunk dialing Steve Lodge? Sound off in the comments.
---