Shahs Of Sunset Feud Between Mercedes Javid And Destiney Rose Continues On Twitter
They even brought their parents into it....
Ashley Hoover Baker July 28, 2020 3:27pm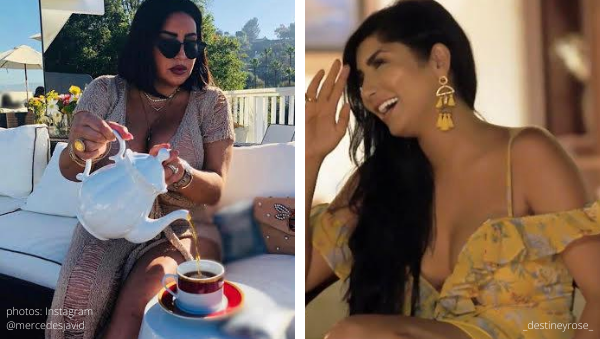 Khosh Amadid to the sh!t show.
The Shahs of Sunset reunion drama has spilled from our screens over to Twitter as Mercedes Javid and Destiney Rose continued to verbally attack one another.
It got ugly. Fast.
The Twitter thread:
Comedian/podcast queen, Heather McDonald, posted a tweet asking for clarification on why Destiney called Andy Cohen 'Andy Joon' throughout the reunion.
MJ responded to Heather's question with "because she has the personality of a low rent maddam [sic]."
Destiney clapped back with "Hahahahaha. You're so pressed….calm your tits MJ..take several seats back and humble yourself!"
"you're [sic] a classless, kiss ass , bitch," replied the new mom.
"HAHAHHA ur soooo sensitive," laughed Destiney.
This is where it got really ugly….
Destiney yelled "STAAAHPPPP acting like ur mom. Breath [sic]," to MJ who tweeted, "Keep my mom's name out of your asshole, you desperate low life bitch."
Destiney finished off body shaming MJ by calling her a 'Heffer' and telling her she should have kept her dad's name out of her mouth.
Clearly, name calling is not beneath either of these women.
Click the arrow in the IG post below to see the full insult-fest for yourself:
Want more Shahs of Sunset in your life?
Subscribe to the On This Day Entertainment podcast! You don't want to miss the Ali Ashouri interview (which drops on 7/27) telling his side of the story AND clarifying the lies told by the cast. In case you missed the piping hot tea Ali spilled on his first appearance, here ya go!
Whose side are you on? Drop Team MJ or Team Destiney in the comments!
---