VH1 Further Removes Sherry Pie From RPDR After Admitting To 'Catfishing'
The disqualified drag queen had no 'talking head confessionals' in episodes 3-5.
Ashley Hoover Baker April 3, 2020 8:16am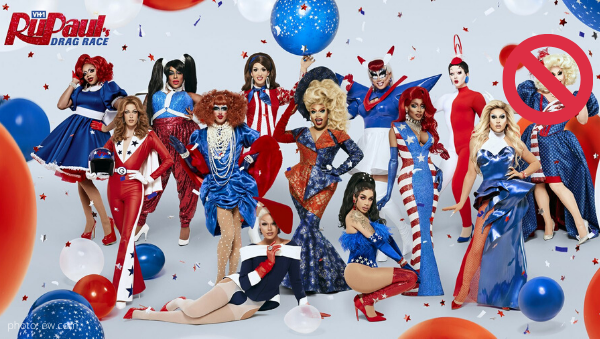 It appears that VH1 is continuing to remove disqualified season 12 dragtestant, Sherry Pie, from RuPaul's Drag Race after admitting to 'catfishing' and having victims do degrading physical and sexual acts. In case you missed it…
RPDR season 12 was already in the can when the disturbing accusations came to light. In other words, Sherry could not be cut out of the show completely. In addition to getting disqualified from the popular show, the disgraced drag queen will not be included live finale- an 'eleganza extravaganza,' if I may.
The show must go on:
VH1 begins each episode of RPDR season 12 with the caption: "In light of recent developments and Sherry Pie's statement, Sherry Pie has been disqualified from RuPaul's Drag Race. Out of respect for the hard work of the other queens, VH1 will air the season as planned. Sherry Pie will not appear in the grand finale scheduled to be filmed later this spring."
I don't know about you, but I was really glad the suits at VH1 didn't punish all of the season 12 queens for one person's actions. Thoughts of that were giving me 3rd grade flashbacks of one naughty classmate getting the whole class' recess taken away- but I digress.
Show me the receipts:
Exhibit A- Evidence of Sherry Pie's further removal was sparked in a Drag Race Reddit thread. A drag queen Nancy Drew posted a comparison video between the international Netflix/iTunes version of RPDR and the American version of Season 12, Episode 3 titled, 'World's Worst.' In the US version, nearly all single-person shots of Sherry Pie had been removed, as had a talking head confessional of her.
Exhibit B- According to Newsweek, "Further proof came when another fan tallied the amount of confessionals each contestant has had in the five episodes of the U.S. edit of RuPaul's Drag Race Season 12 that have aired so far. In Episode 2, when Sherry Pie was introduced into the show, she had 15 confessionals in the main show and two talking head segments in behind the scenes spin-off Untucked. With 17 confessionals, Sherry Pie had the most of any contestant featured in that episode."
Well, Sherry had ZERO talking head confessional scenes in episodes 3-5! That made her the only dragtestant not to have one in any of these installments. Sherry's lack of confessionals are even more obvious since she is the front runner- at the point- in this competition.
Exhibit C- Newsweek also pointed out Sherry Pie has been removed from other of RuPaul's affiliated shows. Her 'Meet the Queens' YouTube video is no longer publicly accessible, and Sherry is no longer featured in the online recap shows 'Fashion Photo Ruview' and 'The Pit Stop.'
Never forget:
After Sherry won on episode 5, VH1 ended the episode with a caption reading: "This episode of RuPaul's Drag Race was filmed in 2019. In light of recent developments, VH1 and World of Wonder have donated $5,000 to The Trevor Project."
RuPaul's Drag Race Season 12 airs Fridays on VH1 and Saturdays on Netflix.
Want to stay up-to-date with RuPaul and her girls?
Subscribe to the On This Day Entertainment podcast, where I break down the week's reality tv and celebrity news. Here is the most recent episode where I discussed Digital Drag Race 2020!
Do you think VH1 intentionally removed footage of Sherry Pie? Drop your opinion off in the comments!
---