Meet The Celebrity Guest Judges Of RuPaul's Drag Race: AOC, Whoopi, And More!
Who else is sashaying their way to Ru's judging panel?
Ashley Hoover Baker February 13, 2020 12:48pm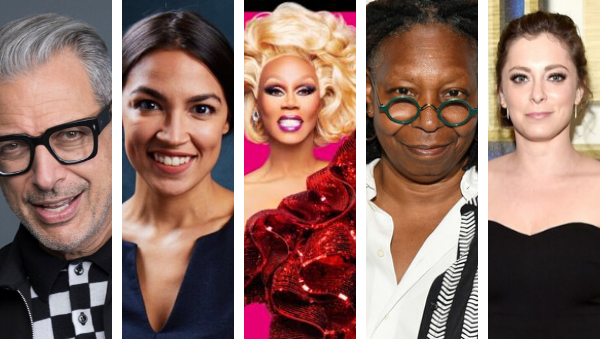 Meet the celebrity guest judges for the 12th season of RuPaul's Drag Race! From Alexandria Ocasio-Cortez to Whoopi Goldberg, this is just the beginning. Prepare to gag!!
With former celebrity judges ranging from former soap opera star turned Real Housewives of Beverly Hills star, Lisa Rinna, iconic Singing In The Rain actress, Debbie Reynolds, and stars of the original reality show 'The Osbournes' Sharon Osbourne and Kelly Osbourne, season 12 RPDR celebrity judges have large shoes to fill.
In case you missed it, Nicki Minaj is kicking off the season 12 premiere off at the show's celebrity judge, but the big names don't stop there. Without further ado, here are the celebs joining Queen Mama Ru, Michelle Visage, Carson Kressley, and Ross Mathews on the panel. (Shout out to both Carson and Ross from evolving from former celeb judges to full time judges for the 12th season of the Emmy Award winning show. Glad these two funny guys got to shontay stay on the show!)
Rep. Alexandria Ocasio-Cortez:
When the New York congress woman isn't busy saving the world, she's fangirling hard for the Queens from RPDR.  Never forget the time AOC caught up with Sasha Velour after an NYC performance of her live show, Smoke & Mirrors.
Tonight THE most honored special guest came to see "Smoke & Mirrors" in Washington D.C. @AOC 💖 The audience gave her a standing ovation too! pic.twitter.com/XzHYGTuDb0

— Sasha Velour (@sasha_velour) November 12, 2019
Whoopi Goldberg:
You may have been keeping up with Whoopi daily on The View, but never forget the actress was in blockbuster movies like Ghost, How Stella Got Her Groove Back, and Girl, Interrupted. I'm just curious if the girls on Whoopi's RPDR episode will lip sync for their life to one of the many bops from the Sister Act soundtrack.
Check out the rest of the judges!
Also being featured as guest judges on RPDR season 12 are Saturday Night Live veteran Leslie Jones, ten time Grammy Award winner/goddess Chaka Khan, Dancing On My Own singer, Robyn, Jurrasic Park star, Jeff Goldblum, Motivation singer, Normani, Star Wars: The Rise of Skywalker's Daisy Ridley, Westworld star Thandie Newton, former correspondent of the Daly Show, Olivia Munn, Crazy Ex-Girlfriend star and co-creator Rachel Bloom, and the iconic America's Next Top Model contestant Winnie Harlow. 
Two more judges that I'm excited to see featured on RPDR season 12 are Mean Girls stars Daniel Franzese (Damian), who wants his pink shirt back and Jonathan Bennett (Aaron Samuels), who looks sexy with his hair pushed back, not just on October 3rd.
For more RPDR content…
I interviewed my friend/LOGO red carpet correspondent, Adam Salandra, after the AJ and the Queen's premiere for the On This Day Entertainment podcast. Adam got to interview many of Ru's girls, but had a particularly funny story about Mean Girls' Johnathan Bennett (which we wondered why he was there- this must be our answer!)  In case you'd like to listen…
Which of the guest judges are you most excited for? Drop names in the comments!
---