RHOP's Karen Huger Confirms Vow Renewal With Ray Huger
"The pandemic has been really good on Ray and I."
Ashley Hoover Baker July 14, 2021 10:18am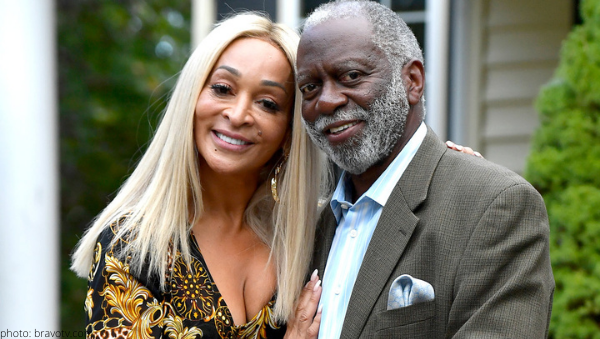 "Honey, the grande dame doesn't repeat history. She makes it."
Well…
Real Housewives of Potomac's Karen Huger confirmed she is repeating history- by getting married again, after 25 years to Ray Huger.
Take two:
The self-proclaimed Grande Dame dished about her second round of nuptials to 'The Black Bill Gates' on The Wendy Williams Show.
Spoiler alert- Karen and Ray weren't always on the same page…
"I don't know what he was expecting, Wendy, but I think he thought we were going to get married in a backyard or our living room."
Hinting the vow renewal ceremony was recorded, Karen teased, "Stay tuned because that's a whole level of drama- getting Ray down the aisle. Meaning, he made me climb the stairs to him this year. Compromise. Stay tuned."
Covid brought them closer:
Of all the couples that endured the pressure cooker that was 2020, The Hugers made it out of the covid crisis better than they entered.
"The pandemic has been really good on Ray and I [sic], as you guys know, we went through a lot last year but what it did was it forced us to have conversations that we otherwise wouldn't have the time to have and it brought us closer. Thank god."
When Wendy brought up money and sex, Karen reassured the talk show host, "He's all mine good, bad, indifferent."
I'm glad no one had to fake a pizza delivery to The Huger house to confirm that one…
Doing the work:
RHOP stans collectively cringed when Ray confessed that he "thinks" he was still in love with his wife during the 5th season of Bravo's hit show.
That gut-wrenching moment motivated the creator of La Dame Fragrance to work harder on their marriage.
"That hurt me more than anything physically he could have said about me, so that made me dig in deep and fight for our marriage."
Here's hoping the curse of the vow renewal doesn't strike again…
Watch the interview for yourself!
Need more Real Housewives in your life?
Check out the Pink Shade podcast for hilarious weekly Bravo Breakdowns and so much more!
Now that the world is getting back to 'normal,' do you think Karen and Ray will fare as well as they did during the pandemic? Sound off in the comments!
---