RHOP: Michael Darby Denies Claims Of Sexual Misconduct
Ashley Darby's husband has been accused of groping a cameraman while filming the popular Bravo show.
Ashley Hoover Baker September 30, 2019 11:19am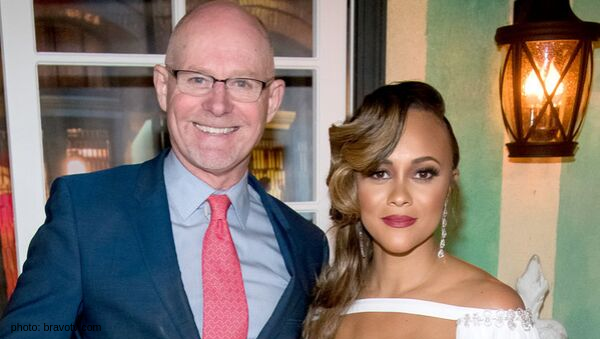 Former Real Housewives of Potomac star, Michael Darby, denies sexual misconduct claims. Ashley Darby's husband was accused of grabbing and groping a cameraman…and Andy Cohen!
Court documents prove the 60-year-old real estate mogul was accused of sexual misconduct. According to reports from People, "Michael denied the incident happened, and charges of felony assault, as well as misdemeanor improper sexual contact, were eventually dismissed by a Montgomery County court due to insufficient evidence. But during the reunion, Potomac Housewives Gizelle Bryant, Robyn Dixon, Karen Huger, Candiace Bassett Dillard and Monique Samuels all brought up additional claims and revealed they had heard Michael had allegedly groped other male staffers over the years."
As far as Michael groping Bravo's daddy, Michael was called out by Ray Huger, Karen's husband! Ray claimed he witnessed Michael grab Andy's derriere after the filming of a previous RHOP reunion. "I've seen you grab someone's behind, for myself. I saw you in a different situation," Ray said. "I saw you grab Andy's butt at the reunion. … I saw that. You guys were kidding around. It's not a big deal."
"You and I might have had a fun joke about it. I don't think I grabbed your butt," Michael told Andy, who agreed with Ashley's husband. "I don't remember," the Watch What Happens Live with Andy Cohen host said. "I'm sure I was fine with it. The show went well, I love you guys."
While we are on the subject of uninvited groping, let's talk about the season one finale of the On This Day Entertainment Podcast. April Kidwell created, wrote, and starred in the play, I, Nomi, which is the prequel to the 1995 cult classic, Showgirls.
April bravely shared her story when a Saved By The Bell cast member groped her backstage at a performance of the off-Broadway hit, Bayside: The Musical. The worst part, she was fired for after she reported the star's misconduct.
This is a conversation I had with my students often when I was an elementary school teacher, but it definitely applies here also. We keep our hands to ourselves- no ifs, ands, or butts (sorry, I couldn't resist!)
Do believe that Michael is innocent? Sound off in the comments!
---