RHONY's Sonja Morgan Avoids Hard Food In Quarantine
Sonja's dietary changes are for the "foreseeable future."
Ashley Hoover Baker March 31, 2020 3:41pm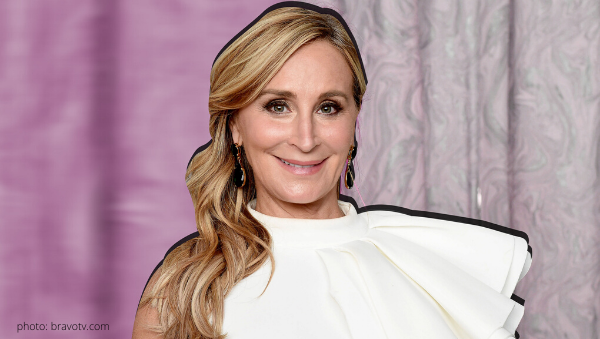 Real Housewives of New York star, Sonja Morgan, made some dietary changes while in quarantine- starting with eliminating hard food. The creator of Sonja Morgan Toasters' plans on continuing her dietary adjustments for the "foreseeable future."
Where is Sonja isolating?
According to The Daily Beast, "Sonja Morgan, who, months before pandemic pandemonium hit the U.S., had booked a stay at a spa in Desert Hot Springs, California, and now is stuck juicing and doing colonics for the foreseeable future. 'I haven't had hard food in 10 days,' she [Sonja] says."
Sonja is doing just fine:
Sonja checked in with her Instagram followers by posting, "Getting some fresh air and sunshine🌞 Vitamin D picks up your mood. 👏🏻 So does eating turkey, putting cocoa powder in your smoothies, and of course watching us #RHONY girls on April 2, this Thursday 9/8c💥."
How is Sonja staying active?
Sonja reassured her fans via her IG story that she is 'isolated' and 'ok.' She wrote that she is keeping 6 feet of social distance as she walks for exercise.
Sonja's reflection during tough times:
"Getting my immunities [sic] up. Grateful for the wake up call." She finished her story slide by sending her warm regards to those affected and suffering from covid-19."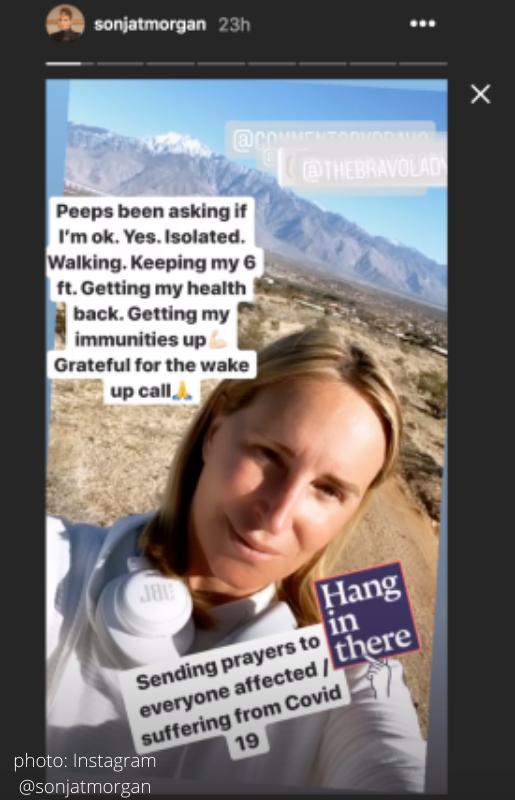 The countdown til RHONY:
Are you as excited for RHONY to return as I am? The ladies of the Big Apple return to the small screen on Thursday, April 2nd at 9pm PST on Bravo. In case you missed the RHONY preview, here ya go! Didn't catch the taglines for the 12th season of RHONY? Don't worry- I got you!
Need more RHONY content?
Make sure you subscribe to the On This Day Entertainment podcast, as I do weekly breakdowns on what happens in the week's reality tv news. Here is the most recent episode. You can also expect fun bonus episodes- like the breakdown of Bravo's mid-season preview of Vanderpump Rules, and full trailers of RHONY, RHOBH, and RHOP I recorded with Ryan Bailey from the So Bad It's Good with Ryan Bailey podcast, which is coming soon! Also, @onthisdayentertainment is going on Instagram Live with IG's @ohnobravo to break down the RHONY series premiere on Friday, 4/3 at 5pm PST.
Where does Sonja rank among your favorite RHONY gals? Sound off in the comments!
---