Caroline Manzo Sounds Off On The Feud Between RHONJ's Teresa Giudice And Jackie Goldschneider
"Two wrongs don't make a right."
Ashley Hoover Baker March 24, 2021 11:50am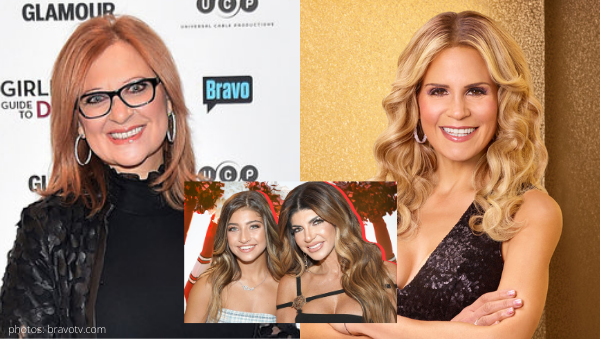 Caroline Manzo's Real Housewives of New Jersey season 4 tagline, "Life is short, I have no time for drama" is proving to be true now more than ever.
The RHONJ alumni- who was a full time housewife for the first five seasons- weighed in on the drama consuming this season of Bravo's hit show between Teresa Giudice and Jackie Goldschneider.
"Two wrongs don't make a right."
Where it started:
During the season 11 premiere, Tre spread a rumor that Jackie's husband, Evan Goldschneider, cheats on Jackie at the gym.
Oh, I forgot to mention that Teresa spread the rumor at Evan's birthday party- attended by his closest friends and family.
Where it went:
After Jackie tried to make Teresa understand how hurtful the rumor was to her family (over and over again, may I add) that Jackie snapped.
The former lawyer made an analogy insinuating the rumor Tre spread would be like her spreading Teresa and Joe Giudice's eldest daughter, Gia Giudice, "does coke in the bathroom" at parties.
If you've ever watched RHONJ, you know Tre's brain isn't wired for analogies.
Caroline's two cents:
The star of the spinoff Manzo'd With Children believes both ladies should apologize.
"I don't know what would possess [Teresa] to say something like that. I don't care how much you dislike someone," Caroline dished to US Weekly.
Caroline didn't let Jackie off the hook either.
"There are plenty of analogies you could have chosen without bringing Gia into it. Gia — from what I've seen and what I have known from that kid, historically — is a great kid. She is wise beyond her years. … Why would you come back with something like that to someone that's not there to defend herself, to someone who's not involved in anything, and to someone who's only 20 years old."
"This is a kid that's in college, that's going out into the workforce, and that lives forever. You'll Google 'Gia Giudice' and that comment will come up," elaborated the Watch What's Cooking host. "Whether she's guilty or not of it, she becomes suspect of it."
Not taking sides:
"They both have to be responsible for what they said and did."
"Shame on both of them!"
At the end of the day, "While Manzo said the argument was 'possibly' encouraged by producers, she also noted that Teresa still should have known 'what's right and what's wrong.' However, she doesn't think Jackie is in the clear, either," as  reported by US Weekly.
Did you side with either Tre or Jackie- or are you with Caroline on Team No One? Drop names in the comments!
---