Both RHOBH's Erika Jane And RHONJ's Danielle Staub Were Go Go Dancers At Shakers
Ashley Hoover Baker April 19, 2020 1:38pm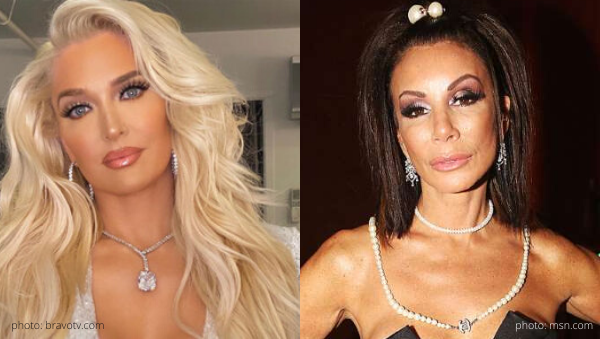 Are you ready for an unlikely Real Housewives crossover? Me too!
Both Real Housewives of Beverly Hills' Erika Jayne and Real Housewives of New Jersey's Danielle Staub were go -go dancers at Shakers Bar in New Jersey. This revelation was made by Instagram's @bestofbravo after the RHOBH season 10 premiere. This is the Nancy Drew detective work we need in the Bravo universe.
What audiences saw:
Erika invited some of her friends/co-stars as well as the Bravo cameras to the establishment during a cast trip to New York City. Denise Richards, Lisa Rinna, and Teddi Mellencamp  joined the Pretty Mess author on a visit to the wannabe strip-club where she worked at as an 18-20 year old young woman trying to break into show business.
Never forget, Erika Jayne made her debut pre-quarantine in Broadway's Chicago. In case you missed it…
'Judgy Wudgy' Rinna:
After Lisa made a snide comment about how she couldn't picture her daughter being a bikini go-go dancer, Erika clapped back at her co-star for not empathizing that NOT all kids enter adult hood after a life of privilege, as her kids with movie star husband Harry Hamlin did.
"Maybe if I grew up with wealthy parents, I wouldn't have been working at a place like Shakers, but you play the hand you're dealt." Say it, sister.
EJ's feelings after visiting Shakers:
EJ did an interview with Bravo's Daily Dish and opened up about sharing her history with the world. "Well, it's 30 years later, so it's many lifetimes," she explained. "I think it's interesting when you find out things about people. I'd written about this in my book. But taking them there, and actually smelling and seeing and feeling the place is a whole 'nother experience and, you know? I'm happy to have done it and I'm happy it's over and you know, it's a story. You know? It's one of those stories that you can tell about your life."
Danielle Staubs' dancing days:
Pretty Mess isn't the only book that detailed a pre-Real Housewives journey through the doors of Shakers. Former RHONJ star, Danilelle also wrote about her days as a dancer  in her 2010 memoir, The Naked Truth: The Real Story Behind the Real Housewife of New Jersey — In Her Own Words.
In Danielle's book, she name-drops 'Shakers' and another Jersey club called 'Satin Dolls,' which inspired the fictional Bada Bing from the groundbreaking HBO show, The Sopranos. She detailed the moment she "hung up [her] stilettos for the last time" in her memoir. Ironically, the RHOBH ladies entered Shakers, Lisa said it reminded her of the club on The Sopranos. How life imitates fiction, which imitates life.
Not sure what a go-go club is?
If you are a South Park fan, you may remember the episode where Butters falls in love with the waitress at 'Raisins.' If Raisins and 'Hooters' had a baby, it would be Shakers. I know, because I met my husband working in one of those places while I was in college.
Please allow South Park to enlighten you:
Is it just me or did South Park made it easier to understand how a woman like Danielle Staub has been engaged over 20 times. Amirite?!?!
Need more RHOBH in your life?
Subscribe to the On This Day Entertainment podcast so you never bonus episodes breaking down the latest episode of RHOBH. Here is the premiere podcast episode with Skylar from Instagram's @thepobinge as we discuss the gals' trip to Shakers, as well as Lisa's response to EJ's clap back.
Was Lisa wrong for saying that she couldn't see her daughters working at a club like Shakers like Erika and Danielle did? Sound off in the comments!
---