Wendy Williams' BFF Drags Nene Leakes For Alleged Affair With French Montana
"You was all up under French Montana."
Ashley Hoover Baker September 30, 2020 12:20pm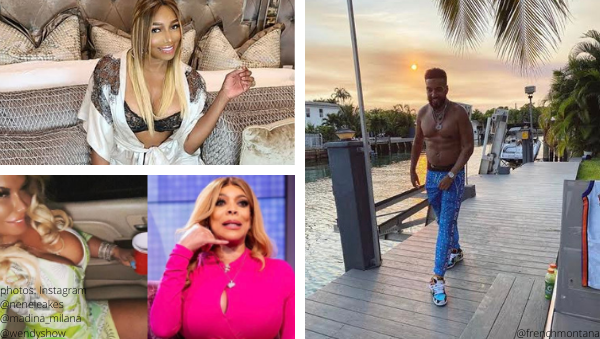 Growing Up Hip Hop
's
Madina Milana
, who just happens to be a good friend of Wendy's, took to her Instagram page to DRAG NENE FOR TRASH. While she was at it, Madina dropped a bomb that a married Nene hooked up with rapper,
French Montana
.
Madina's message to the former peach holder:
"Ok Nene, we gonna stop with these lies. We gonna stop with these games. Why don't you start telling the truth. You snuck your way back into Wendy's life. You tricked me. Y'all asked me to have a sit down, ask her to come to dinner. Which I did. Your thirsty ass flew on the plane the next day. She was like "damn." She wasn't even going to go."
"I was like "she jumped on a flight." She was like "she jumped on a flight?" Thirsty ass. She come to the dinner. Why? So you can be mean and evil and try and come back into her life. And use her and lie on her."
Madina elaborated by pleading with Nene to stop lying. "Why don't you start telling the truth. Talking about you're an icon. You're a whole bug. She won't even respond to you. I can't believe you have the nerve to say that."
But what about French Montana?
This is where it got really juicy…
(insert WAP joke here)
"Why don't you talk about the part where when we was in the truck, you was letting French touch all up on your snatch. That's right. You was all up under French Montana. A whole married woman, NeNe. What I'm gonna tell you is this. You better fall all the way back and keep everyone's name out your mouth. If you keep coming for people that's what's gonna happen. It's gonna be more stuff aired out, more receipts shown. And I don't think you want that smoke boo. So fall back."
Remember when Nene yelled CLOSE YOUR LEGS TO MARRIED MEN, TRASHBOX to Kim Zolciak?!?! I know, the good ole days. I wonder if Nene considers opening married legs to another man 'trash box' behavior?
Do you believe Malina's accusation involving French Montana and a married Nene Leakes? Drop your opinion off in the comments!
---