RHOA's Eva Marcille Claps Back At Nene Leakes
The model called Nene "ratchet" and told her to "glue your wig all the way down."
Ashley Hoover Baker April 2, 2020 11:48am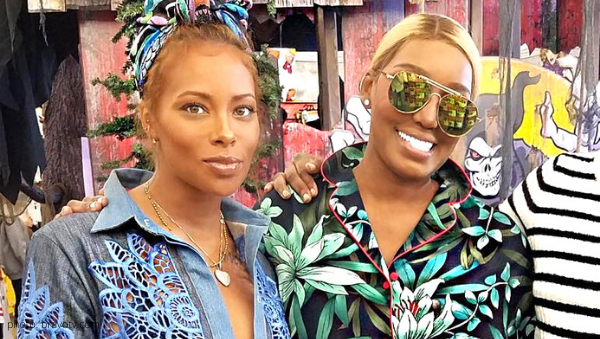 Real Housewives of Atlanta's Eva Marcille throws shade at Nene Leakes. The model called Nene "ratchet" and told her to "glue your wig all the way down."
What started this feud?
Nene told ET Online that the winner of America's Next Top Model should be replaced by former RHOA peach holder, Kim Zolciak.
"We have a great cast right now except for one person, I think," Nene explained. "I think only one person on this cast doesn't seem to have carried any weight this season. And I think that's very obvious who that person is, and I don't think they actually sit in the cast that well."
"I don't feel like Eva brings that much to the cast," the actress/ comedienne dished. "I'm just being honest. It's really like, when you look at a show like, everybody — like the whole cast — is away, and you don't miss the person at all, it's sort of like, we didn't even know you were here, you know? And all season, doing a lot of scenes from FaceTime, that's been the last couple of seasons … So, If I had to change, I would change her."
Keep in mind Eva recorded via Facetime and had to skip the cast trip to Greece due to being pregnant.
Eva's clap back:
In a video of Eva speaking about her controversial costar on The Rickey Smiley Morning Show, Eva mentioned it all regarding accusations made about her by Nene. Eva delivered the shade on a silver platter when she said, "First and foremost, I was not in Greece because I was pregnant. Now NeNe, who is 55, doesn't remember being pregnant because of that 20 years ago for her."
The mom of two didn't stop there. "But I'm a 35-year-old woman with my family and beautiful husband. As far as my relevance on the show, I choose not to every single day be ratchet, there is already enough ratchet, i.e. her, on the show. Why do you need two? I do me, and represent the other part of black women that are smart … well-spoken. That's who I represent. So, if I'm that boring you spent time in your interview talking about me because your storyline is the fact that you have no storyline."
My personal favorite comeback:
Enjoy Eva's delicious dose of shade toward Nene, "If I do remember correctly, even though I was not in Greece, I was on FaceTime and still got a check. Unlike you who missed seven episodes this entire season."
Talk about hitting Nene where it hurts.
Eva's coming for Nene once quarantine is over:
"This reunion is going to lit. glue your wig all the way down." In case you missed it, the reunion has been temporarily postponed due to the covid-19 pandemic.
If you'd like to see the video for yourself (thanks to Instagram's @thejasminebrand):
Want more Real Housewives gossip?
Subscribe to the On This Day Entertainment podcast for weekly breakdown of celebrity and reality tv news, including the latest on your favorite Bravolebrities. Here's the most recent OTDE episode with guest, Ryan Bailey @ryanbailey from the So Bad It's Good With Ryan Bailey podcast. He makes a super feminist point regarding the RHOA drama that you (and the peach holders) need to hear.
When the RHOA reunion eventually films, who do you think will get the final word? Drop names in the comments!
---