Raquel Leviss' Mom Claims "My Daughter Nor I Ever Dumped Graham"
Laura maintained the pup needed to be re-homed because he "bit me to the bone, causing severe damage."
Staff July 21, 2023 10:50am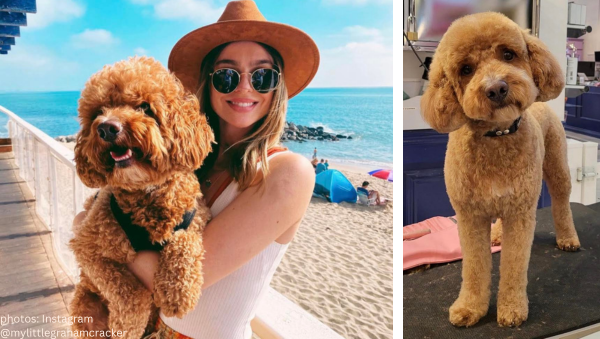 Raquel Leviss' mom has [re]entered the chat.
The infamous Vanderpump Rules mistress hasn't spoken publically since leaving a mental health treatment facility, but her mom, Laura Leviss, couldn't resist selling telling her story to ETonline.com.
"Rachel [Raquel's legal name] put Graham into behavior classes after breaking up with James [Kennedy] because he had bitten several people."
Laura continued, "When Rachel went into the mental health facility, she asked us to care for Graham as we have many times before. While caring for him he bit me to the bone, causing severe damage. I saw two doctors for the wound that suggested he be euthanized, which we absolutely declined, and sought out the best rehabilitation center, California Doodle Rescue, that gave him a trainer with over 40 years of experience."
The next statement is as clear as mud.
"After discussing with Rachel, we made the tough decision to drive Graham on May 20 to California Doodle Rescue so that he wasn't alone and delivered him directly to the trainer's home with a tearful goodbye," elaborated Laura.
(Did they drop Graham with the rescue or at the trainer's home?!?! This is an important detail that was left unclear…)
"While with the trainer, Graham bit both her and her husband. They still worked with him more to get him to a place where he could be adopted. He was placed with a new owner and was returned within three days after also biting her. "
Enter LVP.
"The rescue then reached out to Lisa Vanderpump for financial assistance to hire a different trainer. Lisa offered to adopt Graham and he was picked up by Vanderpump Dogs Rescue on July 13. California Doodle Rescue was told that Vanderpump Dogs would either rehabilitate him and place him in a good home or he could live on her property until his dying day."
"My daughter nor I ever dumped Graham and want nothing but the best for him."
Thankfully, Graham Cracker was rehomed with Raquel's former fiance, DJ James Kennedy, and his girlfriend, Ally Lewber, who snuggled up with the pup while on a cast trip in Lake Tahoe.
View this post on Instagram
How much of Laura's story do you believe? Sound off below.
---