Cheer's Monica Aldama Accused Of Not Reporting Sexual Assault Case And Bribing Victim To Stay Silent
CONTENT WARNING!
Ashley Hoover Baker April 27, 2023 2:27pm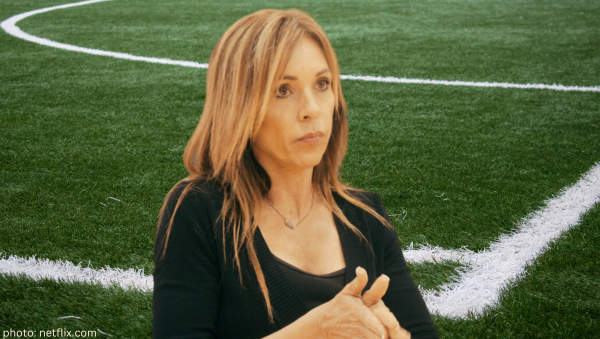 CONTENT WARNING:
The coach of Cheer, Monica Aldama, is accused of failing to report a sexual assault case within her squad as well as bribing a  victim in exchange for silence.
TMZ obtained legal docs claiming a male teammate sexually assaulted a female teammate and Coach Monica attempted to cover it up and used elite cheer squad access as a manipulation tactic to keep the victim quiet.
This is your final content warning:
A female Navarro cheer squad member claims she was sexually assaulted in 2021 in her own Texas dorm room by a male team member. 

After hanging out with the victim, her roommate, and her roommate's boyfriend hung out as a group before things went south. The assaulter followed and the victim on to her bed and started taking off her clothes. "She says she screamed at him to stop, but he kept going and inserted his fingers inside her."
The team's culture:
The victim confided in a "veteran" cheerleader who confirmed this wasn't an uncommon occurrence. The victim was encouraged to "drink it off and get your mind off it" before informing her of the community's expectations of the cheerleaders' silence. "We don't tell anyone. We just keep it to ourselves."
According to MySanAntonio.com, the "lawsuit says that other women cheerleaders told the victim not to tell anyone about the sexual assault. The other cheerleaders reportedly had other male students follow the victim around school to make sure she didn't say anything."
Navarro Cheer's sordid history:
---