Megan Fox And Machine Gun Kelly Spotted Together Twice Since Alleged Break Up
Though the couple did not look happy in the photo, it appears they are doing the work. 
Ashley Hoover Baker February 15, 2023 7:29am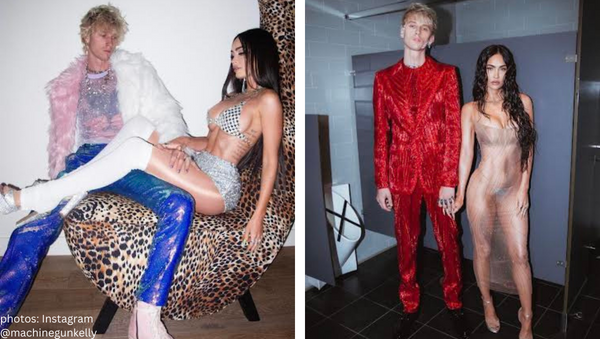 Machine Gun Kelly and Megan Fox are working on their relationship after Megan removed all evidence of their romance from her Instagram page … as well as her "band of thorns" engagement ring.
A photo taken by Page Six revealed the couple riding in a SUV together on Valentine's Day, a day after they were seen leaving a counselor's office. Though the couple did not look happy in the photo, it appears they are doing the work.
ICYMI, actress Megan Fox left cryptic photos in her (now deleted) Instagram stories making fans ponder if she and musician Machine Gun Kelly have called it quits.
The Jennifer's Body starlet took to the 'gram to throw low-key shade at MGK after removing all photos of him from her grid hinting that he was unfaithful to the brunette beauty.
Paired with photos of herself and a video of an envelope being burned in a fire pit, Megan added the lyrics from Beyoncé's Pray You Catch Me from the iconic album, Lemonade, which she created after famously being cheated on by her husband/baby daddy, Jay Z.  "You can taste the dishonesty/ it's all over your breath."
While Megan deleted all evidence of MGK from her social media page – including her engagement announcement to the drummer/guitarist – he has yet to remove any photos/videos of Megan from his account.
Getting even more [Slim] Shady, Megan began to follow rapper Eminem after her alleged breakup. Never forget, Machine Gun Kelly and Eminem have been publically feuding for years.
Do you think Megan Fox and MGK will work it out? Drop your predictions below.
---